I did it! I made a list. I didn't think it would happen being a new dad and all, but it happened. I'm going to try to make a Top Metal list too, but no promises.
At 30 entries, this is the longest Top Drone list I've made. But I've been eschewing reviews lately and focusing on AGB Radio and A Thick Mist, so I figure 30 is acceptable if you count how many records I've directly recommended over the past year.
I seem to continually expand my definition of what a Drone Record is, which means there's probably a few on here that are stretching the confines of that label, but I still did my best to try to keep it as Drone as possible.
There's plenty of reoccurring themes in here. Namely, lots of voices/singing (11 have vocals present at least somewhere on the record) and lots of organs & harmoniums. Neither of those are all that surprising, though. But there's two solo records from drummers, so that's kinda cool. There's also two heavily inspired by traditional Indian music, also kinda cool.
I had fun with this one. I changed a few things up this year. First, I decided to exclude any artist that's been on any previous list. This meant no Saåad, Roly Porter, Andrew Weathers, Sarah Davachi, Mamiffer, Ian William Craig, Danny Paul Grody, Jefre Cantu-Ledesma, etc. (Seriously though go listen to the new Saåad and Mamiffer records.) No one likes to see the same people on such a niche list over and over again, so this was a good way to keep things new and exciting.
The other thing I decided to do was not rank this in the traditional way. Instead, I put the records in positions 7-30 into four groups of six, and the records within each group aren't ranked. So that means the records in group 7-12 aren't ranked, aside from me liking them more than the previous 13-30 drone records. I did this except for the top 6, which are ranked traditionally. I hope it's not too confusing.
As usual, I try to keep the Big Droners off this list because anyone who's a fan of drone probably already knows that Eluvium and Tim Hecker put out records this year and while their music is A+ Amazing, they don't really need a little DIY blog to help them out.
Thanks for reading. Thanks for listening. Thanks for making incredible music.
Joe Clark – Throw Me In The Susquehanna (Glowing Window)
This dude's debut has no business being this good, yet here we are with his outrageous guitar drone that somehow makes the typical atypical for reasons I don't fully understand, Joe's drone is the quality drone that you can count on to be there for you when the times get tough and you need a shoulder to cry on. Don't get fooled by the charlatans, this is the real thing.
Tristan Perich – Noise Patterns (Physical Editions)
This is the third release in Tristan's single bit circuit board releases, following 1-Bit Symphony and 1-Bit Music before that, Noise Patterns is about as minimal as electronic music can get in that it can only play super lo-fi 1-bit sounds, and somehow Tristan manages to tease out the most compelling static & rhythms, not just fascinating and novel but actually amazing music, plus the last piece is set to play infinitely, the digital equivalent of a locked groove in a record, which I think is just fucking awesome.
Medina/Walsh – Vault Of Angels (Debacle)
In lieu of showcasing every Andrew Weather release again this year (last year there were 7, I think there's only 4 this year?), here's the other Americana + drone outfit you should be listening to, the debut collaboration between Josh Medina and Paurl Walsh that drones a little heavier than Weathers ever gets, with some excellent non-droney guitar work that has nice & gritty psych tones as well as some soft acoustic picking and it all gets effortlessly mixed in with the Maximum Drone Bliss.
France Jobin – Singulum (Line)
The first record I heard by France (The Illusion Of Infinitesimal) blew me away with how much could be done with so little. I thought any number of things were happening: I was having tech issues like my speakers stopped working, or I was going deaf, or the record was mixed terribly, or whatever, however it just turns out that 1: I'm mostly deaf but more importantly, 2: she just makes really really quiet music, and it's so fucking good. Her new one, Singulum, was inspired by quantum physics and "represents an unattainable goal, the process of decay while conserving a continuation of information," and it's endless paradise of tiny sounds, think Josh Mason's The Symbiont but more sparse and somehow more lush too??? I dunno man this is just pure magic.
Mike Weis – Sound Practice (Monastral)
One of two drummers who have solo records on this list which is awesome because that means these dudes are using their instruments in wholly original ways but also because clearly it doesn't matter what your source material is, you can make some drone out of it. Mike is usually busy drumming in Zelienople or Kwaidan (or Good Stuff House if they ever decide to make another record) but his solo stuff is truly remarkable, taking inspiration from his education in Korean ritual music, he spun out two side-long pieces featuring a wide variety of percussion instruments (gongs, singing bowls, Korean folk drums) plus a prepared tabletop guitar (which includes a vibrating dildo) and live tape manipulation of said percussion. CRAZZZZY. And crazy awesome. Hauntingly minimal, definitely a religious experience.
Tape Loop Orchestra – The Invisibles (Other Ideas)
Andrew Hargreaves' Tape Loop Orchestra project consistently kills it, but The Insivibles kills it and then kills it again, in no small part due to the additional vocals lent by Beth Roberts (who also showed up on his contribution to the Hibernate Postcard Series), this is the euphoric stuff that's so full of emotion it will make grown adults crumble to pieces before it hits the 5:00 mark.
Bethan Kellough – Aven (Touch)
Bethan literally has a PhD in Sonic Arts, so you can pretty much guarantee anything she puts out is going to be jaw dropping, Aven is exactly that, similar to another record on this list (Robert Curgenven's Climata) in that it heavily features field recordings of geothermal vents from Iceland and South Africa, process that shit and toss in some violin work and you've got this untouchably gorgeous masterpiece.
Damian Valles – Strand (Voxxov)
Damian was kind enough to ask me to write a press blurb for this record, which was the first time I'd ever been asked to do that, so I'm just gonna yank from some of that stuff I originally wrote because writing what's basically 30 reviews in a row isn't something that comes easily anymore. This is a work of brilliance, blurring the boundaries between exceptionally bleak drone and haunted minimal industrial, with mind-numbing static electricity buzzing behind your eyes, motorik rhythms made from detritus tumbling around in empty oil drums, and deep low end generator thrum vibrating under the sound of hanging scythes clanking like windchimes, these are the sparse & ominous sounds of the heavy woes carried through life, the ones nobody sees but everybody endures, when you catch a glimpse of Death in your reflection, Valles' music helps you dismiss it and just focus on the insanity at hand.
Amulets – Personal Power (self released)
"Volume 11. Program yourself for total success. Cassette 2. Unlimited financial success." Amulets (aka Randall Taylor) is a master tape-manipulator who came across a stock of Tony Robbins motivational tapes that he decided would be the ideal source material for his new release, which features said tapes both in audio and physical form, but most of this is Randall's soaring guitar drone that sees the aural landscape as a limitless playground.
Tongues Of Light – Channelled Messages At The End Of History (Pre-Cert Home Entertainment)
This one's off the fuckin wall and insanely cool, put together by Sam McLoughlin (aka N.Racker) and released by Pre-Cert, the label run by Demdike Stare and Finders Keepers head Andy Votel, it combines a ton of samples from who knows where filled with glossolalia and new agey shit, dark ambient rituals b/w I-see-the-light shimmer, this is all over the place bizarre and still a singular cohesive experience.
Braeyden Jae – Fog Mirror (Whited Sepulchre)
There's nothing as nice as Braeyden's drifty drone dreams, settling somewhere in between the sound of ephemeral dust floating in the sun's rays through your window and the impenetrable mist as you drive through the valley.
Insect Factory – Work (Insect Fields)
Premium atmospheric drone from a dude who I definitely should've been paying more attention to after hearing his split with Luciernaga four years ago but alas, now is Jeff Barsky's time to improve my (and your!) life with his guitar based beauty. A lovely mix of shorter pieces and some longer ones, including a gorgeous 17+ minute song called "Sleep Instruction" which despite what it might be trying to tell you, I assure you you want to stay awake for.
Robert Curgenven – Climata (Recorded Fields / Dragon's Eye Recordings)
The minimal-est of the minimals, crank the shit out of this one and get lost in Robert's buying cialis hong kong microtonal field recordings from 15 of James Turrell's Skyspaces (in 9 countries!), each one documenting the subtle shifts in weather & geography from site to site, 2 discs worth of delicacies that are meant to be played simultaneously, out of order, or whatever, so the "real" "original" version is essentially nonexistent.
Sunken Cathedral – Subtle Body (Black Horizons)
Underrated Bay-area artist Ryan Jobes is the master behind Sunken Cathedral, which I feel compelled to say is such a badass name, and he makes heavy use of an organ, so I'm automatically sold, but it's super awesome beyond the organ, a truly magnificent drone that has endless depth, and he enlisted 4 trombonists for this one, going for the gold and achieving it with what feels like a minimal amount of effort.
Jeremy Bible – Music For Black Holes (Aole)
All you really need to know is that this is 4 hours of pure minimalism "for withdrawal, isolation, contemplation, meditation, transcendence, intimacy & sensuality." It helps that it's made by a dude who, more than most other people, knows exactly what the fuck he's doing, and that the packaging for the physical edition is super sweet and equally minimal.
Architeuthis Rex – Stilbon Is Dead (Midira)
Monolithic dark drone rock from the duo of Francesca Marongiu (aka Agarttha) and Antonio Gallucci (aka Kapustin Yar) (with Francesco Gregoretti taking Antonio's place on drums this time around), spewing some time-stretching dusty Barn Owl-esque dread & melancholy, perfect for those nights where you drink yourself to sleep.
Arguably the least droney record on the list but guess who doesn't give a shit because when music is this goddamn good I tend to make whatever excuse is necessary to include it here. Also, it's still really fucking droney. Eola is Edwin White from Tonstartssbandht and apparently he's been doing this solo gospel thing for 6 years but this is the first I've heard of him, this is so so fucking awesome, it's basically Edwin singing gospel & folk songs, layering his vocals to sound like he's an entire choir then adding some droney synthy warble faux-organ and drenching everything in echo & reverb to give it that real Church sound until it reaches a level of drone that makes feel ok enough to include it on my Top Drone list.
Nested – 3 (self released)
Some random Bandcamper that I have no memory of how I came across but instantly fell in love with, they put out two free* self-titled releases this year, but 3 is the winner for me, nothing earth-shatteringly unique but definitely some of the best stuff I've heard that gives me that lush and majestic as fuck Superstorms vibe.
Matt Carlson, Michael Stirling, & Doug Theriault – Aakash (Root Strata)
So one dude who's half of Golden Retriever, one dude who's a Pandit Pran Nath disciple, and one dude who likes to collaborate a lot with Jeph Jerman got together and decided to take traditional Indian minimalism and turn it into a warped cosmic droning nirvana, you might think "oh I've heard that sort of thing before" and let me just tell you no, none of us have heard this sort of thing before. Granted I never saw Nath play with Sun Circle while I was tripping on mushrooms, but I'm pretty sure no one has, so this is as close as we'll get.
Fis – From Patterns To Details (Subtext)
Leave it to Subtext to clue me in to amazing shit that's already been going on for a while under my radar, this is Fis' second full length after plenty of 12″s & EPs and it's totally fucking nuts, an electronic maelstrom that uses all sorts of static, the barely there, what's even happening kind and the soul shaking, kneel before your new one true God kind, with rhythms that emerge as quickly as they disappear, this is boundless & cavernous but infinitely detailed.
Jon Mueller – Tongues (Rhythmplex)
Jon's drumming is the stuff of legend (see: Volcano Choir, Death Blues, Pele, Collections Of Colonies Of Bees, etc., collaborations with James Plotkin, Duane Pitre, Z'EV, etc.) but he truly shines on his solo work and Tongues takes the next logical step in his musical evolution moving towards a higher plane of being, the mesmerizing drumming sitting right alongside his infinitely layered vocals of glossolalic chanting that I previously described as the sound of everyone you've ever met gathering together in an attempt to understand their existence, which is still the best I can do at describing just how fucking crazy amazing this is.
Of Earth And Sun – A Consuming Fire (Maniacal Hatred)
If the black horror that's evoked by Phurpa (#6) is too much for you, then Of Earth And Sun is the next best thing, he also makes long form ritual drone with human bone trumpets, goes supernova with his vocals, and records (everything?) live, but he changes things up by busting out the electronics and dives a little bit into industrial territory. This is truly epic doomed metaphysical realization shit.
Accident Du Travail – Très Précieux Sang (The Trilogy Tapes)
I owe my awareness of this record solely to Philip Sherburne, so thanks x1000 dude, because holy shit this is amazing, full of glorious harmonium wheeze, it's soft & warm but thick & enveloping, everything I want out of my drone.
La Tène – Vouerca/Fahy (Three:Four)
Two side-long pieces of hypnotic drone ragas made out of harmonium, hurdy gurdy, and percussion? Goddamn yes please thank you, this somehow sounds like nothing else I've ever heard while still bringing to mind everything from traditional Indian music to contemporary psych jams, I couldn't love this any more.

6. Phurpa – Rituals Of Bön I (Zoharum)
Ever since Ideologic Organ reissued Trowo Phurnag Ceremony on vinyl in 2011, I've been obsessed with these guys, they're a group out of Russia that plays traditional Bön music (a Tibetan religion similar to but distinct from Buddhism) and trained for many years to perform a unique style of tantric overtone singing (training includes drinking black tea with chili pepper & cream and standing on your head while singing), I swear to you their voices are not of this fucking planet, a number of their instruments are made out of human bones (damaru: a human skull drum, kangling: a human thighbone trumpet), and I'm pretty sure everything is always recorded live, ok but so these dudes aren't just all aesthetic, the music they make is un-fucking-real, it's deep, dark, and absolutely transcendent.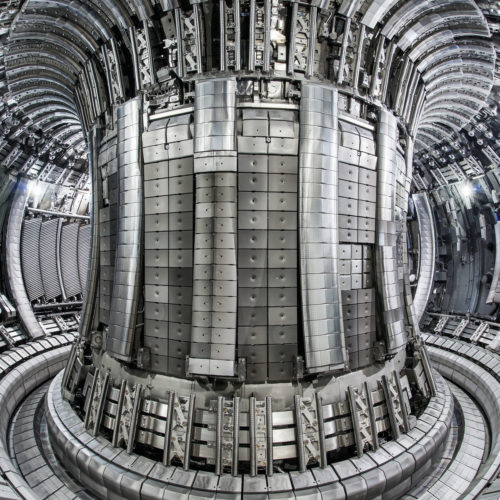 5. Paul Jebanasam – Continuum (Subtext)
Paul's newest is much less darker than his debut, Rites, but way more rowdy and way more fucking intense, this is dynamic to the extreme with long moments of near-silence that explode into ear shattering bliss. Also, check out those song titles, the dude's not fucking around.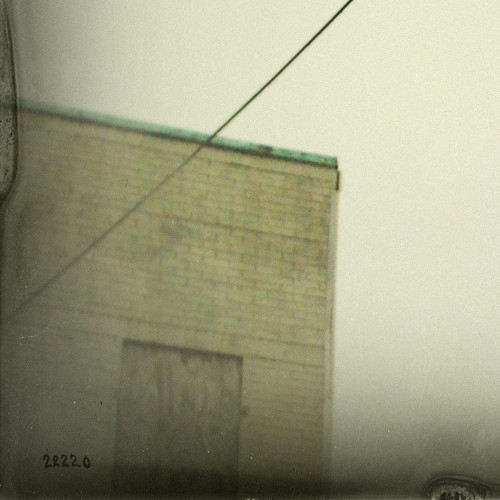 4. Shovels Beat The Sun – Sky Wires (Bitrot)
FUUUCK I love these guys so much. I got to debut the stream of this record earlier this year and couldn't have been happier. Steve Fors (aka Aeronaut) & Björn Granzow (aka The End Of The World Championship) going all out with massive textured drones that can barely withstand their own weight. Denser than osmium and as euphoric as it gets. Some of the best sounds around.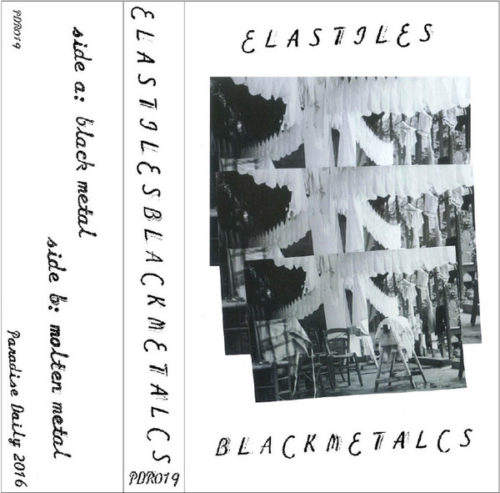 3. Ela Stiles – Black Metal (Paradise Daily)
Ela put out this 2 song, sub-20 minute tape early in the year in preparation for her full length that's named after the other song on this tape, "Molten Metal," and features a different version of that song. So why isn't the LP on this list instead of this EP-ish thing? 2 reasons: 1, the full length is way less droney than this tape, it's got some heavy darkwavey popgazey vibes to it, not too dissimilar to another favorite of mine, Troller, who couldn't make this list for the same reasons, and 2, the other song on this tape that isn't on the full length is fucking phenomenal. Ela's chanting amidst harmonium hum just fucking kills me.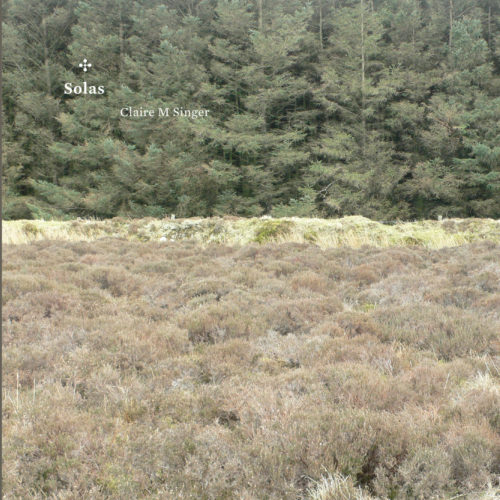 2. Claire M. Singer – Solas (Touch)
A stellar debut that's heavy on the organ. I mean the second disc is a single 30 minute organ drone and it's fucking heavenly. If that was all the record was it would still be here at number 2, but there's an entire other disc that's just as amazing.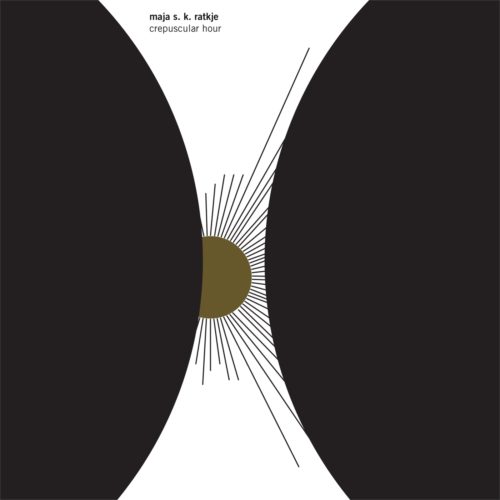 1. Maja S. K. Ratkje – Crepuscular Hour (Rune Grammofon)
Maybe Maja is "too big" for this list (she's been consistently releasing well received music for 15+ years and this came out on Rune Grammofon), but this record was the first time I'd even heard of her, so I'm assuming some of you might not have known about her yet either. Crepuscular Hour is a one hour piece of music composed for 3 choirs (!), 3 pairs of noise artists (!!), and a church organ (!!!), and all of the text is taken from a "collection of thirteen ancient books with over 50 texts that were discovered in upper Egypt in 1945," so already this thing is set up to be a fucking masterpiece. And it is. It's executed so goddamn perfectly and the live recording is immaculate. I would kill to see this performed in person. Someone please make this happen.