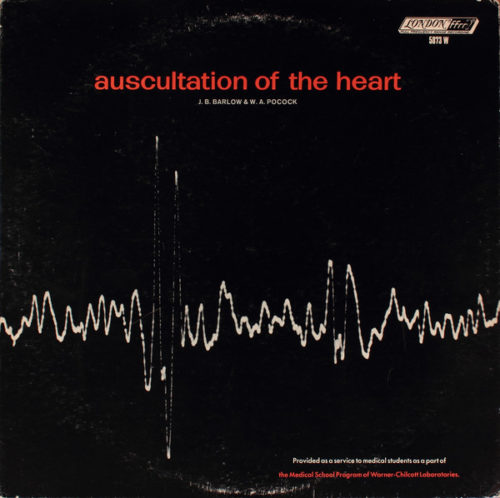 This is the 100th episode of A Thick Mist so I figured I'd do something a little special. I did an entire episode with no music. Everything I played is a field recording, spoken word, sound effects, etc. There's only one exception: the Reese Williams record, which is intended to be musical in nature but is made of the widest range of human vocalizations that I thought it fit well here.
I only added time stamps for the talk breaks and the beginning of each section because identifying the rest of the times would have been damn near impossible. Also, most of the time I played excerpts, so even when it says something like "Side B", I only played part of the full side.
Thanks for listening. Here's to 100 more.
Air date: July 31, 2019
Background music: The Vampires Castle (from Ghostly Sounds)
00:00:00 Talk break
00:02:32 Side B (from The Swamp In June)
Beverly Ann (from The Subject Is Flowers)
Side A (from Technical Series: Professional Test Record)
Side B (from Canine Heart Sounds)
Side B (from Iron Horse Rambles)
Vincent Price – Side C (from Witchcraft – Magic: An Adventure In Demonology)
00:33:06 Talk break
00:35:58 Reese Williams – Part One (from Sonance Project In Two Parts)
Side A (from Vietnam: With The American Fighting Man)
Gladys Ruth Kanter – Daytime Relaxation (from Real Relaxation: A Prime Key To Good Health)
Side B (from The Language And Music Of The Wolves)
Side B (from Medium: Paranormal Field Recordings And Compositions, 1901-2017)
Side A (from An Evening In Sapsucker Woods)
Eva Le Gallienne & Louis Jourdan reading Charles Baudelaire – Side B (from Les Fleurs Du Mal)
Side B (from Tortura: The Sounds Of Pain And Pleasure)
01:01:43 Talk break
01:04:05 Side A (from Sebastian Speaks)
Elizabeth Clare Prophet – Side A (from The Sounds Of American Doomsday Cults, Vol. 14: The Church Universal And Triumphant, Inc.)
Dr. Thelma Moss – ESP Research (Parapsychology) (from The Occult Explosion)
Side B (from Sound Communication By The Bottlenosed Dolphin)
Side B (from American Hot Rod Association 1963 Winter Championships, Arizona Raceway – Phoenix, Arizona)
Side A (from Environments Disc 1)
James Baldwin – Side A (from Black Man In America)
01:31:14 Talk break
01:34:12 Side B (from World War I Fighter Planes In Action)
Ursula K. Le Guin – An Orgota Creation Myth (from The Ones Who Walk Away From Omelas)
Side B (from Auscultation Of The Heart)
Side B (from Songs Of The Humpback Whale)
Elijah Muhammad – Side A (from Muhammad Speaks: The Time Of Judgement, Volume 2, Part 1)
Side B (from Hollerin')
Side A (from Dawn Chorus: The Birds Of Morning Pro Musica)
01:58:38 Talk break