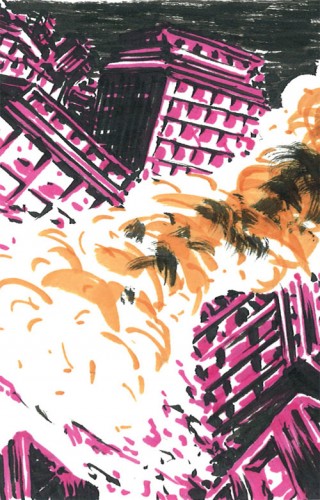 Cane Swords – Big Disaster



The very first release from Rubber City Noise, a bizarre tape of hypno synth noise by Cane Swords, aka Curt Brown & Karl Vorndran. These two dudes created spacey nightmares with a traditional smorgasbord of electronics, plus some hacked shit like a circuit bent Buddha Machine, handmade phaser, RCN Hello Kitty Ring Mod, and the requisite infinite blue light.
Big Warmup In The Mouth Of Eternity is a fucking journey and a half. Layers upon layers of static & space dust, glitches & anti-matter. They build dense clouds of electro mist, raining ice crystals down through murky tumble drones, bubbling swamps of gamma rays, pulsars of technoise in a blazin hot swarm. It's pure fucking chaos without relying on an ear-rupturing brain fuck. They wobble down a line of immersive bliss and sloppy malarkey, keeping you totally locked in, scanning for the brief moments of enlightenment.
Pillaging from the maelstroms in mid-century electronics and sci-fi soundtracks, Cane Swords take the current smear of synths and throw their own blend of insanity into the mix. Big Warmup is goddamn fantastic, an hour long disarray of non-abrasive synth noise that spits in your face and tells you to chill the fuck out. Honestly can't wait to see what both this new label & band have coming up. RCN is gonna be a label to keep your hawkeye on, that's for damn sure, because they're packaging is sweet as hell and they do free downloads of most of their releases, INCLUDING THIS ONE, so fucking GRAB. IT.