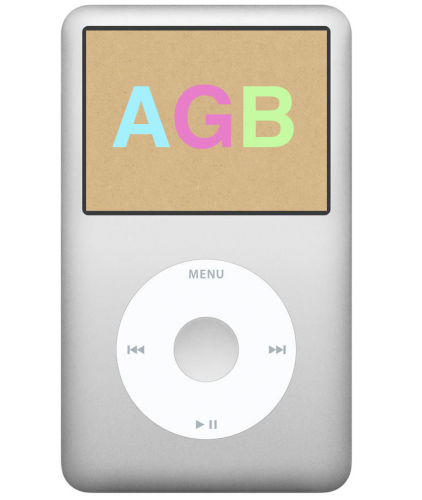 Well, not really. I'm not going anywhere yet. Sorry for the theatrics. Just needed to get your attention. But, I was only sort of joking.
If you haven't noticed, there's been a bit of a drought around here lately, and one of the reasons for that is my iPod broke. And I'm not gonna lie. I totally need an iPod to keep this shit going. Daily music submissions with no efficient way of listening to them? I'm never gonna hear new tunes and you're not gonna hear what I have to say about 'em. In short, I want you to help me get a new iPod!
So here's the deal. I want you to donate dollars so I could buy one of these. But I'm not a scumbag. I don't just wanna mooch off of your kindness. I want to give you something in return! And the more you give, the more you get! Like Kickstarter just without Kickstarter. I'm hoping to get around $250 (plus taxes and maybe AppleCare depending on how well this goes). If I reach that goal, I'll celebrate by posting an awesome mix for everyone to enjoy. Yay! So even if you don't donate, you can still win.
But there's extra cool stuff for those who are feeling extra generous. Here's the breakdown on what kind of things you might get rewarded with.
Donate $1-4
I'll send you a thank you email for being super nice and I'll reserve a future high five for you if we ever meet IRL.
Donate $5-9
You'll get to download the awesome mix before anyone else and I'll thank you publicly by linking to your website/blog/store/twitter/whatever in the awesome mix post when it goes live/a post of thanks if I don't reach the goal.
Donate $10-24
You'll get a physical copy of the awesome mix in the mail with handwritten liner notes and album art printed from my inkjet.
Donate $25-49
You'll get a physical copy of the awesome mix in the mail with handwritten liner notes and extra special one of a kind album art made by these unskilled & uncreative hands.
Donate $50
I'll make you a 100% original kickass mix based on the genre of your choosing, as long as I have a robust enough collection of that genre, with handwritten liner notes and extra special one of a kind album art, etc.
Donate more than $50?
You're crazy and you'll get the same as $50 but I'll blast the mix from a boombox outside your residence Say Anything style (if you live close enough). (Please no one actually donate more than $50.)
I'm not doing this on Kickstarter because a) this would be a boring fucking Kickstarter and b) I'm actually going to reward those who donate regardless of whether I reach the goal. If I only get one $5 donation, they're going to get their own individual thank you post with me gushing about how fucking cool they are.
BUT I'm not going to post that awesome mix unless I reach the goal. So donate away and be sure to leave details in the message section of your Paypal donation in regards to your reward (like your address or whatever).

Update: You're still welcome to donate, in fact I encourage it, but the whole rewards thing is closed. You won't receive anything other than a sappy thank you email from me, but that's worth a buck or two, right?
Donate here and I'll love you forever. Save AGB!