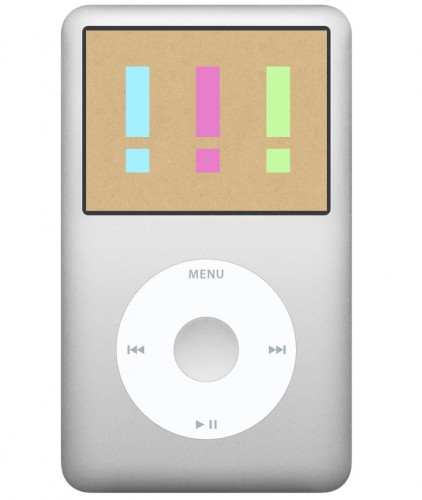 WOW. You have all overwhelmed me with your generosity. I wasn't even sure I would reach the goal of $250, let alone double it. I can't believe how kind you all are. I'm endlessly grateful for all of your donations. It honestly means a lot to me.
Since I not only made enough to replace my busted iPod (and I'm listening to the new one RIGHT. NOW.) but made that and then some, I've been racking my brain as to what to do next. I thought I could make extra mixes of various genres and then you could pick which one suited you most (or just download all of them), I thought I could spend some time ripping my favorite weird LPs that I've never gotten around to posting and offer up a batch of 10 or so of those, but that's still just extra work on my part and pretty much doing things I would do anyway, just more concentrated. And that feels a little lame having you donate extra money and then being like "Sweet, thanks, I'm gonna go buy more records."
So I thought I might take that extra money and make some AGB t-shirts! I know some of you have expressed interest in that in the past, and I thought I would send everyone who donated a shirt for free, and then sell whatever I had left over. I'd get my wife (Argyle Whale) to draw it up and then get them screenprinted somewhere local. Does that sound like a decent extra reward? And are there any of you who didn't donate that would be interested in buying an AGB shirt? Just trying to gauge the market. If there isn't one, I'll still make some for those who donated.
I'm still working out the details of those extra digital rewards (mixes, old LPs, etc) so don't hold me to that just yet. But I'll definitely do something extra awesome because your extra awesomeness will not go un-noticed.
Thank you all so much. You have saved AGB.