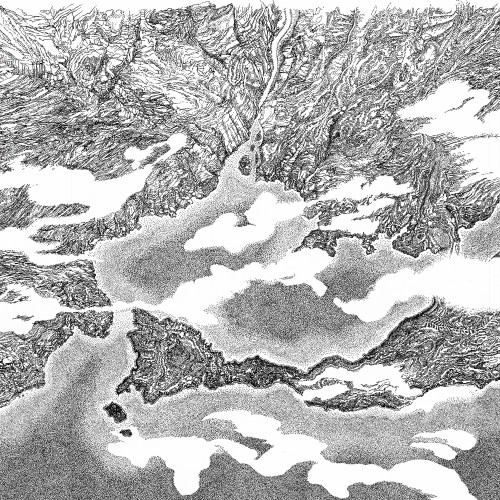 High Aura'd – The Northern Sky Ablaze (Bathetic)



It seems like maybe this is High Aura'd's (thee John Kolodij) big one. He recruited the mighty Greg Kelley for his trumpet powers, got Simon Fowler to create a masterpiece for the artwork, had John Twells (Type, Xela, etc) produce & mix it, and dipped it in lead with James Plotkin's mastering. Not to mention that this is his first slab of vinyl, and it's on Bathetic, and it's already been praised to the high heavens by everyone including the fucking Boston Globe. But today is its official release, and I can pretty much guarantee Sanguine Futures will end up somewhere on my year end drone list, so this is my authorized stamp of approval that this record is the fucking BEST.
It seems like with each release Kolodij's gotten darker & darker, which is A+ in my book, and this one is by far the blackest he's gone. With the exception of a singular jaw dropping moment of euphoria (and trust me, it's a special fucking moment), this is mostly all ominous rumble, running the line of doom and black ambient. He's been pretty metaphoric with the water theme in the past, but this is overt and unmistakable, starting the album off with watery samples. This whole thing is like a foggy midnight journey through the middle of the ocean, with distant muffled canons fighting off some ancient sea beast, mythical & literal sirens wailing, calling with sweetness & alarm, chimes and clatter rattling in the still darkness, the crazy dude on top of the mast playing his song of mourning, the much saner dude in the hull with his heartache piano, everything sad and black, but not quite devoid of hope. Seriously pushing all of my drone buttons right now, ranking in the very top of records this year and likely for years to come. This is Kolodij at the top of his fucking game. Dude is already unstoppable and this is only his first vinyl. If you haven't been keeping an eye on him yet, now's the fucking time.