I've never done a guide like this before. I've gone to ATP both in NY & NJ, but those were basically just two/three stage fests with properly staggered schedules so you could jump in between pretty easily. Thus, if you really wanted to see everyone play at least a little bit, you were able to. Not so with Hopscotch. There's a dozen different venues that get taken over in downtown Raleigh and you'd kill yourself trying to see the majority of the bands play.
One of the reasons I'm super psyched for Hopscotch is because of the insane variety of music they brought in. Yeah, most fests do this, but Hopscotch seems more in tune with my personal tastes. Namely, lots of weird shit & black metal. So since they're kinda all over the place genre-wise, I thought it might be a good idea to help out some folks looking for a more AGB themed experience at Hopscotch.
This guide won't tell you what bands to see when (ok, maybe a little), it's more to tell you the choices I'll have to be making come showtime. For example, where will I be Thursday night at 10? The Fletcher Theater Opera for Charlie Parr or the Long View Center for Chuck Johnson? And I'm not gonna lie. This guide mostly started as my own personal endeavor and then a few readers wanted me to share, so, obviously I'll oblige.
This guide is only for the night shows. There's another schedule that'll be released in a couple weeks with the day show stuff and I might do another guide for those, but no promises.
Also, just fyi, my personal fest going style is to see as many full sets as I can. None of this jumping around shit. I know that's a bit antithetical to the whole festival thing but fuck it. I don't like to second guess myself and wonder "Oh, but what if maybe Oneida is doing something extra awesome right now…" No. I commit to a band, sometimes even a venue for the night, and enjoy the fuck out of it.
Come September 6-8, you'll know where I'll be. If you see me, say hey, lets hang out. And let me know what your must-sees are in the comments!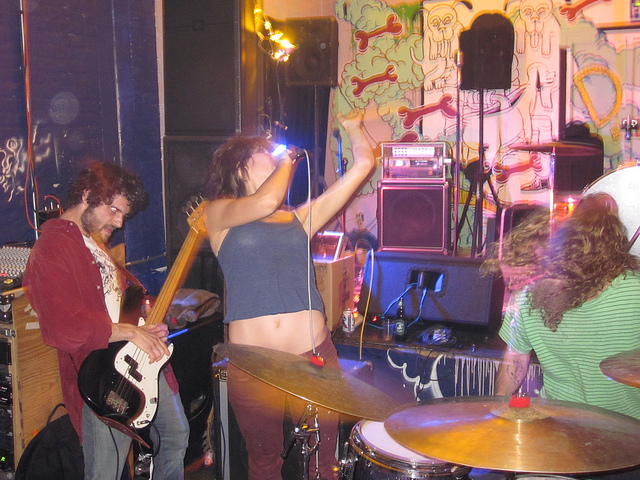 Guardian Alien via
THURSDAY
Long View Center is definitely the venue to camp at Thursday night if you had to chose. The crazy underrated electroacoustic duo of Chris Forsyth & Koen Holtkamp start things off at 9:00, with acoustic guitar guru Chuck Johnson and the abrasively genius Bill Orcutt at 10 & 11, then the much hyped Julia Holter finishes things off at midnight. You honestly can't go wrong by hanging out here. Except…
You'd be missing out on Jon Mueller's Death Blues at 9:30 at the Lincoln Theatre. And this is one of my most anticipated sets for the whole fest, so there is no way I'm missing this. There's a lot of mystery and excitement around the Death Blues project and this may be one of the only chances you have to check it out. I may not know many details about this but I can guarantee it's going to be a fucking highlight.
If you're feeling like some killer guitarness that's not Chuck Johnson, head over to the Fletcher Opera House at 10 and catch the incredible Charlie Parr, the self taught old school blues picker who was on that amazing split Thrill Jockey put out last year with Glenn Jones where he played alongside the Black Twig Pickers. You know you're in for a treat here.
Guardian Alien is a new project helmed by the bestial Gregory Fox who got more involved with this after he stopped drumming for Liturgy. This is some fucking amazing raga noise stuff like Lightning Bolt gone transcendental. You can see him at 11 at White Collar Crime if you're into the whole "I saw him first" thing.
The Hive @ Busy Bee has a nice double header with thee Alan Bishop aka Alvarius B. at 11 being weird & awesome followed by the beloved synth/guitar superstar Mark McGuire at 12. Definitely not a bad place to be caught at if the timing's right.
And if you still haven't seen Liars or Deerhoof, let me be the last to tell you that you're missing out. Deerhoof plays a mind bending 2 hour set at Memorial Auditorium starting at 10 and Liars close the night afterwards with a scheduled 1.5 hour set that will certainly find its way chugging into the AM's nether regions.


Killer Mike via
FRIDAY
The City Plaza starts things early with the festival "headliners" or whatever with Zammuto at 5:45, Built To Spill at 6:55 (on the dot), and The Jesus & Mary Chain at 8:45. I could miss Zammuto and not feel too bad, and I've seen Built To Spill before (not that they're not worth seeing many times over), but J&MC is where it's at. Pretty psyched to see 'em. After them and MBV, I'm just waiting for Slowdive and Ride to make their return so I can maybe put that shoegaze superfecta on the mantle.
If you're looking for the Friday camp house and you can handle a blackened assault, set up shop at Kings Barcade and get destroyed by all manner of evil metal. I don't know much about MAKE except that they're fucking heavy and open things at 8:30, then brutal New Englanders Vattnet Viskar at 9:30, Georgia's anti-Georgian Withered at 10:30, poster boys The Atlas Moth at 11:30, and Altar Of motherfucking Plagues at 12:30. Almost more black metal than one dude can handle.
There's a fantastic semi-early double-header at Memorial Auditorium with the subtly masterful and oft veiled drummer Chris Corsano at 9 and Boston hero Glenn Jones' 1.5 hour long set of massaging 12-string Fahey stylings at 10 (just before Yo La Tengo at 11:30 if that's your thing). I'll likely skip out on this one as they're both pretty common sightings around my area, but that doesn't mean you should take my lead.
If you're looking for a quiet and delicate set, Papa M, David Pajo's understated solo excursion will suite your fancy starting at 11 at the Berkeley Cafe.
The Pour House Music Hall has an insane couple of bands that are sadly interspersed with Corrosion Of Conformity at 11:30 who are definitely not my thing. But at 10:30, this year's champions of doom Pallbearer will destroy the soundboard. Would love to see these guys as they're not stopping in Boston on their tour for whatever lame reason. And then the endorphin chasing Dan Deacon closes the night at 12:30. This dude is responsible for two of my all time favorite shows ever. I don't think I've ever had a better time than when he played with the Ensemble at the Middle East Downstairs a few years ago. Nonstop euphoria to the fucking max.
Zola Jesus is pretty awesome, especially Stridulum, and I've yet to see her, so this would be a good time I guess since she's playing Lincoln Theatre at 11:30, especially because immediately afterwards fucking Killer Mike is closing out the night at 12:30. Dude has been blowing up this year with his R.A.P. Music, inarguably rap ROTY. Sure to be a killer set. (yes I did. no I couldn't help it.)
So that's three highly covetable sets of stellar sounds at 12:30. Killer Mike, Altar Of Plagues, and Dan Deacon. How the fuck I'm supposed to decide between those I have no idea.
There's also an hour of sweet spacey krauty jams courtesy of White Hills at Slim's around 12:30, but I have a hard time imagining myself making it when there's already so much other incredible shit going down at the same time slot. But just because it's crowded, doesn't mean their awesomeness should get discounted.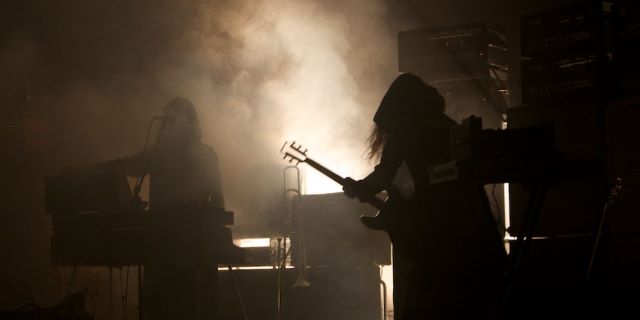 Sunn O))) via
SATURDAY
The Roots start the night off on the right foot nice n early at 8:30, City Plaza. Another big name I haven't seen, so this would probably be a good chance to indulge, without it interfering too much on the rest of my evening.
But Memorial Auditorium is definitely where you wanna hole up on Saturday. As far as lineups go, and I'm talking in the grand scheme of things, it seriously doesn't get any fucking better than this. Chicago's indispensable noise maker Kevin Drumm at 10, Oren Ambarchi's skillfully precise drones all the way from Australia at 11, and the almighty Sunn O))) gods at 12:30. I have a hunch that Ambarchi will join the mega-doomlords but that's just me speculating. Regardless, a Sunn O))) set ain't nothing to fuck with.
The Long View Center is another wholly mesmerizing camp-worthy club, although I'm not very familiar with Secret Cities (who go on at 11). Quiet Evenings, the lovely Rachel and Grant Evans' sun drone project, start off at 9. Poland's Jacaszek is stopping by for a rare American hour's length of his glitchy static shimmer at 10. And at midnight, German minimal turntablist and all around spectacular composer Arnold Dreyblatt is joined by NC locals Megafaun as his "Orchestra Of Excited Strings." Despite the one off ignorance, this is still going to be a 100% amazing set of sets (matrix?).
The quickly rising Hubble (Zs guitarist) plays at 9:30 at the Fletcher Opera Theater wielding his axe of New Age noise. Definitely a worthwhile show to catch.
If you're going for the grittier and lo-fi side of guitarings, Amen Dunes will be blasting some low key psych pop jams at 10 in The Hive @ Busy Bee.
Then we have black metal wtfers Sutekh Hexen at the Berkeley Cafe at 11, playing their dark ambient mess of horror noise which I could not be more stoked for.
And 11:30 seems to be the go-to set time for Saturday night, with three separate clubs showcasing a solo performance that'll give you heart palpitations (well, four if you're into Laurel Halo, playing at Kings Barcade). There's Carlos Giffoni at Five Star who might show up with his ear destroying noise freakouts or his new softer droney chill side. There might be weird dancing? Who knows. But it's definitely going to be crazy awesome. Then there's Danny Brown at CAM, who put out my favorite hip-hop from last year in the form of his XXX mixtape. This dude has some of the best lyrics, amazing beats, and a totally unique nasally/whiney voice that's not even the least bit annoying. Love him so much. And finally there's the inimitable Colin Stetson at The Pour House Music Hall, who legit blew my mind at ATP NJ last year with his sexy as fuck sax prowess that is incredible on record and fucking UNREAL live. This'll definitely be a tough choice, but having already seen Stetson, I might have to go for one of the other two dudes.
Then you have Oneida starting at midnight at Tir na nOg, playing for who knows how long. Although they're stunning whether they play for 30 minutes or 9 hours. They always know how to rock the fuck out and I've yet to be disappointed by them.
And finally you have poor Balam Acab at Kings Barcade competing for the midnight thirty slot with Sunn O))). I know not everyone digs Sunn's monolithic slabs, so Balam Acab is a worthwhile alternative. Dank and warped beats with his killer flow. Definitely a good way to end the fest if you're looking for more of a feel good party.

Here's my personal schedule for Hopscotch spreadsheet style. I might make something prettier and more portable once the day schedule drops, which I'll post for y'all. Otherwise, take from this what you will and I'll see you at Sunn O))).