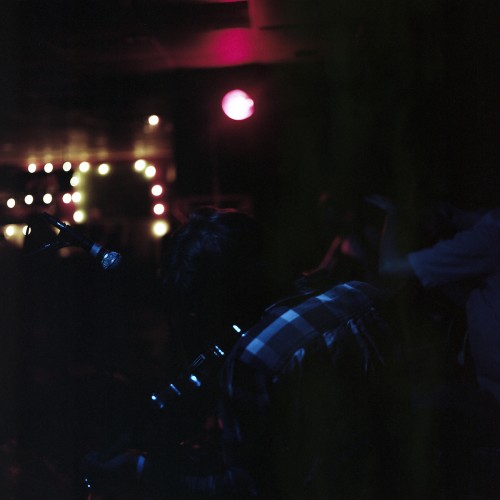 Andrew Weathers & Andrew Marino – Single Girl, Married Girl (Full Spectrum)



Alright, so technically this record doesn't feature Andrew Marino. At all. But that's because it's not just a record. It's music & a book, with Weathers making the sounds and Marino taking photos. Every song Weathers wrote is tied to a pair of photographs Marino shot, and the music kinda takes the back seat, getting just a digital release that accompanies the physical book (of which there's no digital counterpart as far as I know, but you can check out Marino's Flickr for some examples). And since I don't have the book, this review focuses solely on Weathers' contributions.
If there's any dude who knows how to incorporate melty drones with vocals and acoustic plucking, it's this guy. And if there's anyone you can count on having their next release being just as good, if not better than their last, it's this guy. Andrew Weathers records are like my favorite thing right now. And probably forever. He just pushes all the right buttons, but he also pushes them so perfectly. His drones are fucking top notch, elegant & soft, can i buy cialis at walmart warm & sunny, and totally blissful. Then he mixes in acoustic guitars and banjos, sometimes accompanying the electronic minimals, sometimes just by their bare self, founded in Appalachian tradition and tweaked with a keen eye for the discerning 21st centurian, always with a delicate tenderness that feels like Weathers is hugging you through your speakers. And his singing is just what takes it to the next fucking level, vocals like an ironed sheet of satin, rich and friendly, implicitly welcoming you to join in. And all of it has a hint of melancholy that's beautifully subtle, giving everything that perfect amount of bittersweetness. Clearly his work with the Andrew Weathers Ensemble has found its way back home in his solo work and I'm all for it. Speaking of which, this is every bit as amazing as AWE's We're Not Cautious, which made my Top 10 list a couple years ago. This is seriously incredible work and every release Weathers puts out just makes me more shocked that he's not being praised as Drone Folk Hero. What's wrong with you people. This is where your ears should be.