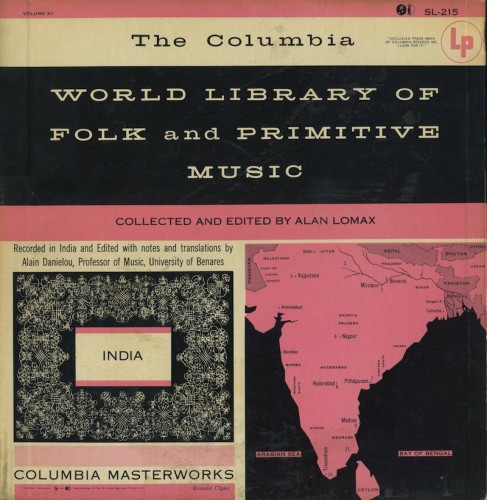 Download The Columbia World Library Of Folk & Primitive Music series
This is what I've been working on the past few weeks. Digitizing these ancient dusty records, scanning the jackets, and photographing the liner notes, for this hulking mass of worldly beauty collected Alan Lomax.
The Columbia World Library Of Folk & Primitive Music series goes well into the double digits (some details here), but these are the 7 best. My favorite place ever The Record Exchange gave me first dibs on this sweet bunch, so naturally I grabbed the ones from French Africa, Indonesia (New Guinea, Bali, Borneo, etc), Venezuela, British East Africa, India, Bulgaria, and Japan (also includes The Ryukyus, Formosa, And Korea).
There's so much to dive in to, each record has insane diversity just in itself, and these are literally all over the map. 100% awesome, no filler. Lots of surprises & treasures. The music will speak for itself, but I have a lot of technical stuff I'd like to share as well.
The vinyl isn't always in the best shape. Considering their age, they're immaculate, but there's still over half a century's worth of grit caked in the grooves. I did my damnedest to clean 'em and ended up only having one spot that wouldn't play through. The second piece on the third band on side B of the Bulgaria record couldn't play without skipping in the same spot every time, so I axed it. Everything else is intact. I didn't do any digital cleanup for pops n clicks so these V0 mp3s sound as close to my vinyl as you're gonna get.
The ID3 tags are a little weird but that's because the records are a little weird. Each side has a few tracks/bands, and each track has between 1-10 pieces. I opted to keep the original format, so each mp3 represents one band (except that Bulgaria piece mentioned above, had to split that in two), and is tagged as "1: Song 1 / 2: Song 2" and "1: Artist 1 / 2: Artist 2." Also, the artists are spottily mentioned in the liner notes, so frequently just the name of the recording location is used in the "Artist" field.
But lucky you, I included legible photographs of allll the liner notes. Each record is a gatefold with attached booklets containing lots of photos and details on every song recorded, so my ID3 tags are just a pitiful attempt at capturing that data. The photographs aren't prefect because I wasn't sure how many people actually cared about them. So I slacked a bit on the quality, but like I said, they're all legible.
I hope you enjoy these records as much as I do. They're a bit of a shining gem in my collection and I'm really excited to share them with you. Globetrotting via records is the best way to go.