Just because I stopped writing for a bit doesn't mean I stopped listening. Actually felt like I did way more listening than usual, or maybe it was just more quality listening without the review cloud storming up in my brain. Either way, here's a quick rundown of some chill records I've been jamming these past few months. Part 2 will be the louder noisier scarier stuff.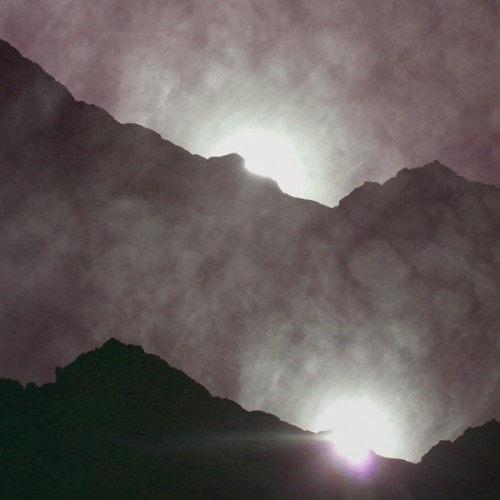 Danny Paul Grody – Between Two Worlds (Three Lobed)
Omfg this is one of my favorites from this year, Grody (of the forever missed Tarentel) goes way beyond the experimental guitar soli stuff and turns solo guitarscapes into a lush & serene ocean spanning this life and every other, delicate drone, subtle piano, & obscured vocals breathing bliss into every moment of this record. For a guitar record, it goes places you never dreamed of.




Alessandro Cortini – Forse Volume 1 (Important)
This has been getting tonnnns of spins over here. Cortini is from Nine Inch Nails and How To Destroy Angels, which automatically (shamefully) made me not care about this. But for some reason I listened to a sound sample and was instantly sold. This is some incredible minimal/maximal single-Buchla-synth drone stuff that's got the occasional rhythm and is fucking out of this world awesome. Sadly you missed your chance with the 2xLP, it's sold out. Luckily, Volumes 2 & 3 are forthcoming before the year's end. This is gonna be a trilogy to write home about let me tell you.




Earn – Hell On Earth (Bathetic)
Why this guy isn't at the top of the drone chain yet I don't know. But lets hope Hell On Earth puts him there. I can hardly imagine a more beautifully dark record than this, channeling soft woozy bliss into a black mourning shroud, this is the ghostly stuff you see out of the corner of your eye on a sun-drenched foggy morning, supremely perfect, definitely one of the best drone records you'll come across this year.




Henry Plotnick – Fields (Holy Mountain)
It's hard to not call every embarrassingly talented kid that hasn't even hit high school a genius, but here we have 11 year old Plotnick's debut 2xLP of melodic loops in the vain of the early minimal masters and goddamn this guy is fuckin going places. Regardless of his age, Fields is a fucking triumph of transcendental zoning. Fingers crossed he keeps recording.




The Archivist – The Wooden Laser (self released)
I was maybe a bit biased from the get-go due to this guy's name but objectively speaking this record is the fucking best. The Wooden Laser is a barely there minimalism, crank this fucker up and you can still hear you pet's heartbeat 3 rooms over. An ambiance formed around dusty tapes and whispered electronics, you can give 100% of your ears to this and it'll show you all the crevices in the fabric of reality.




Sarah Davachi – The Untuning Of The Sky (Full Spectrum)
A debut of this caliber shouldn't be going as unnoticed as it is, Davachi has cuddled up next to a variety of electronics (ARP, Buchla, Serge, Mellotron) and coaxed tender long-form minimal drone dreams out of them, deeply saturated in warmth & finessed to a level of tonal perfection I don't think many people ever achieve.




D. Burke Mahoney – LORAN-C (self released)
An homage to the 1350 foot transmitter LORAN-C in Greeland that collapsed in 1964, this is a beautiful drone record that's overwhelmingly minimal, the kind of sounds you hear emerge from a silent room that has various quiet machines powered up, the sound of a room breathing, exceptional, precise, & absolutely perfect. Also, it's free.




Lustmord – The Word As Power (Blackest Ever Black)
I was never too into Lustmord but when I heard this was a drone record based on various guest artists' vocals (Jarboe! Soriah!), I had to check it out. Blew my expectations right out of the water. I love some quality black magic ritual drone like Phurpa and Zurvan and this fits right in, expansive & evocative detailed drones resonating through empty caverns, so fucking excellent.




Marisa Anderson – Mercury (Mississippi)
How I've yet to hear of Anderson before this record is a baffling travesty. She picks & strums her way on electric, acoustic, and lap-steel guitars playing 100% awesome experimental Americana, twanging & echoing under wide open skies and doing an assortment of styles, bluesy drags, lazy folk, dusty Appalachian ragas, and tying it all together with an old fashioned tenderness. Love this so much.




Big Blood – Radio Valkyrie 1905-1917 (Feeding Tube)
Insanely fantastic record from this Maine psych folk duo, only their second full length and somehow they've already honed a hazy dark sound that puts everything else to shame. Songs fit for midnight forest rituals and ghost stories by the fire, a seriously warped ethereal vibe that's unshakeable after the first track's vapors seep into your pores.




Molly Drake – Molly Drake (Squirrel Thing)
Unearthed recordings from the 50s by Nick Drake's mom!! This woman has an undeniably charming & enchanting voice, singing sweet somber tunes & floating effortlessly on her piano, this is a record that'll transport you to the drawing room you never got to hang in.




Agarttha – A Water Which Does Not Wet Hands (King Of The Monsters)
Agarttha is one Francesca Marongiu (of Architeuthis Rex) conjuring a doomy folk, or folksy doom, or some manner of subdued occult magik that pours out of your speakers like a fog, offering elements of psych & pop that are as inexplicable as they are welcome. One weird fuckin record, covers you in a thick layer of moss that you'll never wash off.




Julianna Barwick – Nepenthe (Dead Oceans)
Been enthralled with Barwick ever since I saw her open for Eluvium years ago and her new record takes her layered vocal bliss to uncharted heights, sometimes venturing into pop territory, but pure fucking heaven through & through. Hands down one of the most beautiful records and completely deserving of all the praise that's been heaped upon it lately.