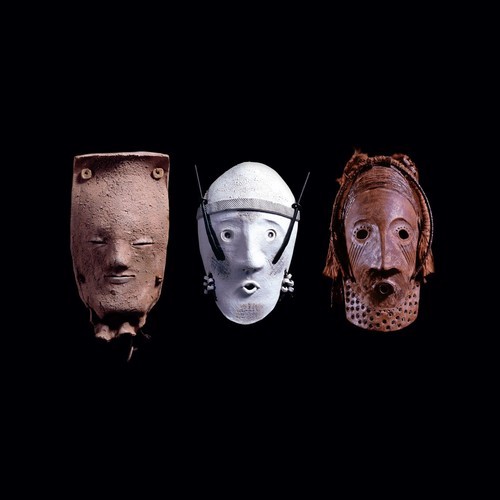 Death Blues – Unseen (Rhythmplex)

Disclaimer: I was a bit heavy handed with the quotes in here because there's just too much to not share. No apologies, just a heads up.

Jon Mueller has been working on his Death Blues project for a few years, addressing "the inevitability of death as impetus to become more present in each moment," which is to say (and I'm paraphrasing a quote I can't find the source of) Death Blues is as much about death as firemen are about fire. He's put out a handful of releases as part of this project, including Mueller's Death Blues debut on Taiga and the Here manifesto, all of which were variations of a visceral motorik transcendence founded on hammered guitar, propulsive percussion, and spiritual incantations, but this is different, a whole new beast.
Ensemble is the feather in the Death Blues hat, the fully formed masterpiece that seems as if Mueller had been planning this all along, because not only is there the record, a bright orchestral blossom aided by composer William Ryan Fritch and a bunch of other multi-talented musicians, but also a 16 page book of essays from seven of Mueller's friends writing on loss, regret, and vulnerability, Mueller is hoping this "offers both a chance for people to escape within the work, and to then come out of it with a new perspective on their own situation. And ultimately, to consider what positive actions can be taken based on that new understanding."
The music here is absolutely fucking incredible, it's the score to the realization of the self, or more specifically, the self as finite, and every moment here is a triumph, an explosive but tender display of the world's beauty, seeing past the pain & destruction into the positive, a hopeful potential way of life, these are rich, lush movements with cheering strings, majestic chords, yearning melodies, and bombastic climaxes, completely distinguished from the previous incarnations of Death Blues, the hammered guitars almost gone entirely, the wordless chants relinquished to the background of a few pieces, and now a much more dynamic song structure, this is downright pop in comparison, but this is the future Mueller intends, overwhelming & uplifting, take the bliss head on and proceed knowing fully your ultimate destiny.
As fantastic as the record is, I think I may even be more enamored with the essays, all of which speak to me on a fundamental level. There's so much raw wisdom offered up, so many emotions & ideas that will take a long time to truly sink in.
Brent Gohde's piece on suicide is the opener and he sets the mood for the remainder of the book when he proclaims "And there will come a day that I'll sleep forever. But until then, I made a promise to wake up, if at all possible."
David Ravel's story of his father and wife dying, and watching them die, literally brought me to tears. His honesty is one that I feel will probably resonate with many: "We, all of us, die. This is not only true but also strikingly obvious. And yet, in spite of my experiences with death, I don't think I'm smart enough or strong enough to practice the mindfulness that Jon encourages and us."
Tom Lecky's short abstract piece is a lipogram, which means he never uses the letter "i" and his explanation of why he chose this method is something I will always relate to: "The http://laparkan.com/buy-tadalafil/ significance of that is quite obvious, and coincides with what I try to do with any creative act: kill the sense of self, destroy the idea of expression, make the act of making and the resulting thing the subject. I never want to be the subject. I, insofar as I am an individual, is not at all interesting to me artistically. The desire to obscure and see a self disappear is the goal."
Stacy Blint writes a powerful multi-page stream of consciousness poem where she talks about being raped, having shitty parents, and the inherent difficulties of life.
Chris Koelle proved to me how similar people can be while having such starkly different belief systems. This is a man who seems deeply religious and believes lust to be an evil, a "slow motion suicide," neither of which I identify with, but who also tries to find the fleeting moments of wonder in the world, which is something I also strive for, and I know this is a whole lotta stuff I'm about to quote but it's just too fucking good. "I feel now as if the only heart I've ever had is a broken one, and healing don't come easy. But somehow, there have been moments, and all the brokenness, of signs pointing toward Hope, of felt healing: through a friend's gracious word, in a knowing smile, within a solid embrace and a mere, miraculous pat on the back. In split seconds of feeling the weight of the glory and beauty of this world press in, just for a moment, outweighing the crushing threat of despair from inside and out there." And finally "This quiet shudder of being grateful is a gift I think I've experienced more and more frequently as I've gotten older. Which, when I stop and think about it, is really encouraging, considering the fact that the pains and problems of life become more acute the older we get. Perhaps that's the very reason why this feeling of gratefulness wells up more and more as time goes on. Fire both consumes and refines."
Faith Coloccia has an amazing piece on her "experience with exorcism, and sacrifice, having seen behind the veil of heaven in a nascent state" and how profoundly it has changed her outlook: "The blood is red, I cross the threshold into resurrection and the open eyes of life."
Sally Haldorson concludes the book with a story of winning a poetry contest at a young age, the long lasting memory of her mother's hand written book of poems, and what it's like cleaning out your dead parents' home.
The physical object that is Ensemble is a gorgeous piece of artwork, it's a large hard covered book (different than an LP with bound pages inside) that's adorned with artwork of masks made in the 1970s, and it has a slot in the back of the front cover for the vinyl. Absolutely amazing.
Death Blues' Ensemble is something a written review can barely hope to explain. This is one of those rare times when the trope of "you need to experience it yourself to really understand" is 100% accurate. This is the whole package of concept & art perfectly realized, raising the bar for music, writing, and experimental projects of any kind. Ensemble might literally change your life, and will at the very least offer a totally unique experience, one that you'll treasure for quite a while.