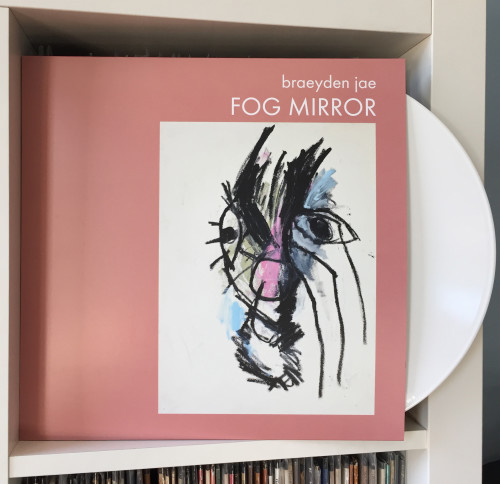 You need this. And you can have this. SLC's Braeyden Jae has been doing his thing for at least as long as AGB has been around, if not longer, and if you've been following this site for a while, hopefully you'd recognize his name (Braden J. McKenna) or any of his numerous alias/groups (WYLD WYZRDZ, Navigator, Weighted Pines, Mario Kart, Sleepover…), but regardless of your familiarity with this musical prodigy, this is what you need to know:
Fog Mirror is Braeyden Jae's debut vinyl outing, and it's the first release on the newly minted Whited Sepulchre Records (set up by Tome To The Weather Machine's Ryan Hall, who also runs that charity label Heligator that I just highlighted on AGB Radio) and holy mother of god is it amazing, definitely a Drone Of The Year contender, Braeyden doing everything he can to win me over, stellar misty ambience with lulled piano and warm subtle washes of bliss, gauzy guitars reeling in the clouds, muted static numbing your thoughts, a low volume noise that gives you nothing but the most peaceful embrace, absolutely fucking beautiful.
So winning this is easy, just like the last contest, I want you to write a haiku inspired by fog, or wizards, or Mario Kart, or sepulchres, or whatever, you get the idea, something sorta related to this. You write that haiku, and you email it to foghaiku[at]antigravitybunny[dot]com easy peasy. Submissions will be taken until the end of Sunday, May 1.
You can stream the whole thing on Bandcamp, and if you don't win, I highly suggest picking up a copy anyway because like I said this is fucking perfect.