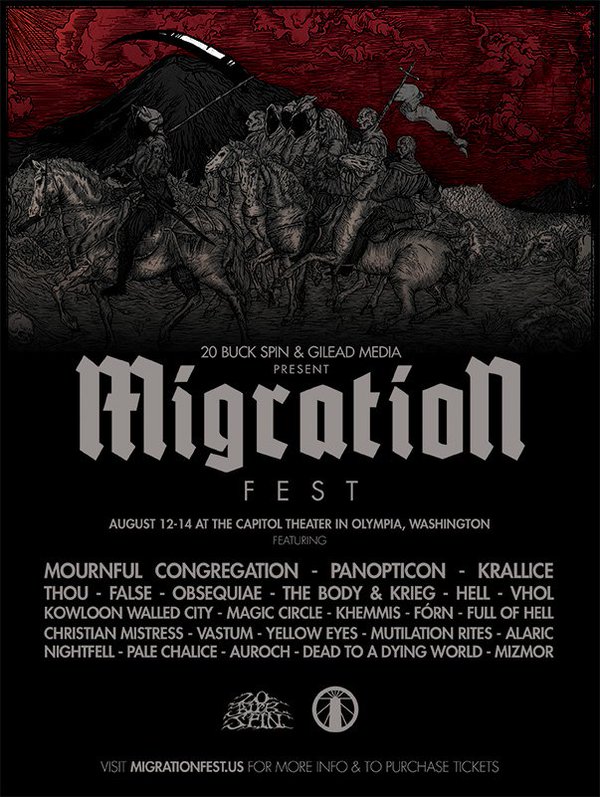 I'm headed to Migration Fest in a few weeks. I can't fly, and I live in Salem, Massachusetts, so getting to Olympia, Washington is gonna take quite a few days, but it will be so unbelievably worth it. I mean, just look at the bands that are playing (except Emperor, they're definitely not playing, but False is doing an Emperor cover set). This is literally like 75% of my favorite metal bands. Bell Witch! Panopticon!! Hell!!! Mizmor!!!! Mournful Congregation!!!!! Un-fucking-real.
There's still some day passes left (Friday is sold out) but people who bought a weekend pass and can't go are selling their passes on the Facebook event page, so it's still not too late to get in on this.
See you there?
UPDATE: I totally fucked up and played a song from a different Eos band than the one that played the fest. I played the Canadian black metal Eos on Fallen Empire instead of the Olympian doom Ēōs with three self-released demos. Sorry about that!
AGB Radio 2016/07/25 – Migration Fest Special

Background music: Thou – Prometheus (from Summit)
00:00:00 Emperor – The Majesty Of The Nightsky (from In The Nightside Eclipse)
00:04:51 Talk break
00:06:53 The Body & Krieg – Fracture (from The Body & Krieg)
00:09:49 Cavernlight – Upon The Threshold Of Reason, Embracing Our Corporeal Forms (from Corporeal)
00:16:24 Krallice – Engram (from Ygg Huur)
00:21:53 Eos – Katharsis (from L'Avalé)
00:28:52 Talk break
00:30:13 Obsequiae – Wilweorthunga (from Aria Of Vernal Tombs)
00:32:45 Pale Chalice – Through Vexed Veil (from Negate The Infinite And Miraculous)
00:35:51 Fórn – Emergence (from The Departure Of Consciousness)
00:40:22 Panopticon – The Wind's Farewell (from Autumn Eternal)
00:47:18 Yellow Eyes – Fallen Snag (from Sick With Bloom)
00:53:09 Anicon – Toil And Mockery (from Exegeses)
00:59:17 Talk break
01:01:08 Bell Witch – Somniloquy (The Distance Of Forever) (from Four Phantoms)
01:24:03 Hell – Inscriptus (from Hell)
01:29:04 Full Of Hell – Throbbing Lung Fiber (from Rudiments Of Mutilation)
01:30:06 Talk break
01:31:00 Dead To A Dying World – Cicatrix (from Litany)
01:35:55 False – untitled 3 (from untitled 2015)
01:45:17 Mournful Congregation – The Wreath (from The June Frost)
01:48:23 Mizmor – Bask In The Lingering (from Yodh)
01:58:38 Talk break