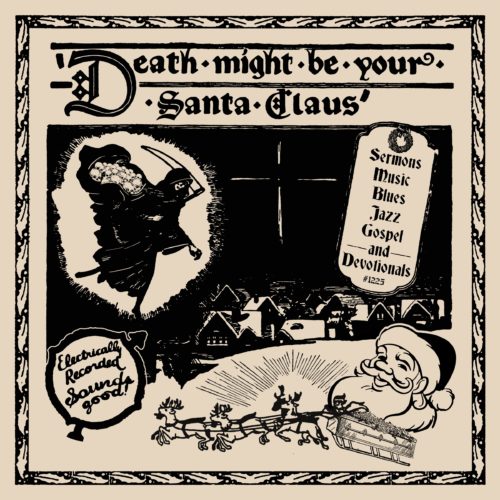 I decided to pull all of my A Thick Mist-relevant Christmas records for this episode (which is only 5 but they're all pretty great) as well as my entire Numero Group collection (which I only got to play half of but oh well, I'll save em for another day). All in all, there's only 3 non-Christmas or non-Numero songs and everything turned out just swell.
No A Thick Mist episode next week because the university is closed but I should return the first week of January.
Also, I mention it right off the bat on air, but just fyi, this is a short episode because the building the radio station is in didn't open when it was supposed to and my secret back door that's usually open wasn't so I started about a half hour late. Blame Facilities.
Air date: December 21, 2016
00:00:00 Harry Bertoia – Clear Sounds (from Sonambient)
00:14:24 Talk break
00:17:20 Les Troubadours Du Roi Baudouin – Siku Kuu (Holy Night) (from Christmas In The Congo)
00:20:25 Les Troubadours Du Roi Baudouin – Lullaby (from Christmas In The Congo)
00:23:00 Les Troubadours Du Roi Baudouin – Kimya (from Christmas In The Congo)
00:25:51 Little Murray And The Maniacs – Don't Leave Me Mama (from The ABCs Of Kid Soul)
00:30:22 Venus Star – On The Path Of Return (from Setyphorus)
00:34:49 Talk break
00:37:13 La Justicia – Guaguanco Coroco (from Cult Cargo: Salsa Boricua De Chicago)
00:43:36 Lil McClintock – Don't Think I'm Santa Claus (from Death Might Be Your Santa Claus)
00:46:43 The Basement – Funky Music (from Local Customs: Pressed At Boddie)
00:51:58 Circuit Rider – Limousine Ride (from Circuit Rider)
00:57:28 Various/unknown – Dzwon, Dzwon, Dzwon (from Boże Narodzenie: Polish Christmas Songs And Sketches)
01:00:37 Various/unknown – Boże Narodzenie (from Boże Narodzenie: Polish Christmas Songs And Sketches)
01:03:35 Talk break
01:06:25 Otis G. Johnson – Call On Jesus (from Everything – God Is Love 78)
01:12:01 Kalinga province – Group Singing With Gongs (from Music From The Mountain Provinces)
01:17:28 Rita Ford's Music Boxes – Ihr Kinderklein Kommet – Large Kalliope With Bells, Polyphon With Bells, Regina (from A Music Box Christmas)
01:20:23 Alfonso Lovo – Los Conquistadores (from La Gigantona)
01:26:10 Scars From A Dead Room – InHume (from Scars From A Dead Room)
01:32:57 Les Petits Chanteurs A La Croix De Bois – Noëls: Allons Pastoureaux (Vieux Noël Languedocien) (from Christmas Music Of France (Noëls Populaires))
01:35:12 Talk break