2019 was the first year I didn't post a single thing on this site besides the radio show. I have very obviously taken a big step back from the music review thing. However, I still enjoy making lists and sharing great music with you, so here we are, 27 of my favorite drone records from this year, a nice arbitrary number that I didn't feel needed to be an interval of 5. I was a little less strict about the "too big for AGB" criteria I always enforce, although I still kept it somewhat intact, as if anyone needs me to tell them the dude from Nine Inch Nails put out a record on fuckin Ninja Tune oops I meant Mute (even though Cortini's record is fuckin phenomenal).
Instead of uploading a song for each record like I've done in the past, I made sure the album title links to a stream (all of them go to Bandcamp). There's only one that doesn't have a full stream online, number 12, so you'll just have to take my word on that one and enjoy the brief samples the label provided. I've made Spotify playlists in recent years, but this time only a fraction of the records were available on Spotify, so I just didn't even bother.
Also, I'm fairly confident that Jacob Kirkegaard's crazy limited/expensive deluxe 4xLP box Opus Mors, where he recorded four different post-mortem scenarios (a morgue, an autopsy, a cremation, and a corpse farm), would be on this list if I ever had a chance to hear it.
Let me know what I missed and what some of your favorites of the year were.
As always: Thanks for reading. Thanks for listening. Thanks for making incredible music.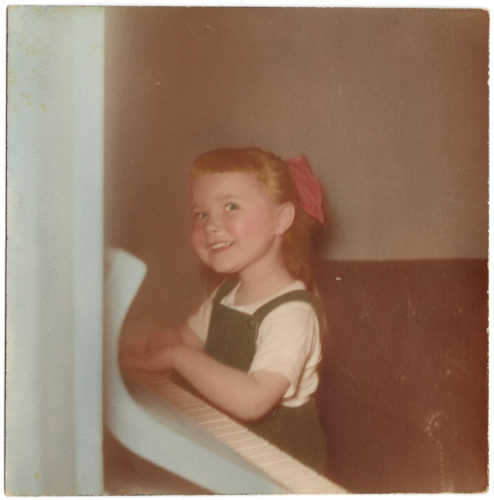 27. April Larson – Virtual Stardust (self released)
April is more prolific than most, with (at least) two solo releases this year, as well as a great collaboration with Darren Bauler under the name Bauler Larson Overdrive. This one, however, is my pick, it's four short-ish tracks clocking in around 25 minutes, each one wandering slowly through the murk, super minimal, super awesome.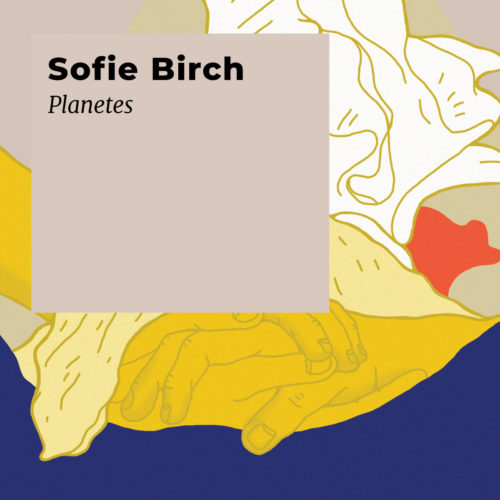 26. Sofie Birch – Planetes (Seil)
Planetes is absolutely lovely, a subtle record with only a hint of volume and boundless depth. As much as I hate to rely on the label-provided description, it really nails it: "It is about the joys of exploration and the beauty of getting lost. Planetes creates a feeling that is somewhat hard to put in words, but very easy to fall in love with."

25. Akosuen – At Sea (self released)
Akosuen is a Chicago-based "music & performance project" lead by Billie Howard. Not too many releases under the Akosuen name, however Howard has quite a few credits to her name, including contributions to a couple Wrekmeister Harmonies records. At Sea is a five-movement EP for violin, the first movement composed for a single violin, the second movement for two, etc, all the way up to five violins. It's composed so that it can be performed by a soloist with a looping pedal (or five violinists, obviously). This isn't a super easy listen, with disorienting atonal vertigo and stretched & scratched nails on a blackboard, but it has plenty of smooth melancholic moments with lots of breathing room. As with most drone work, At Sea reveals many fascinating details upon repeated listening.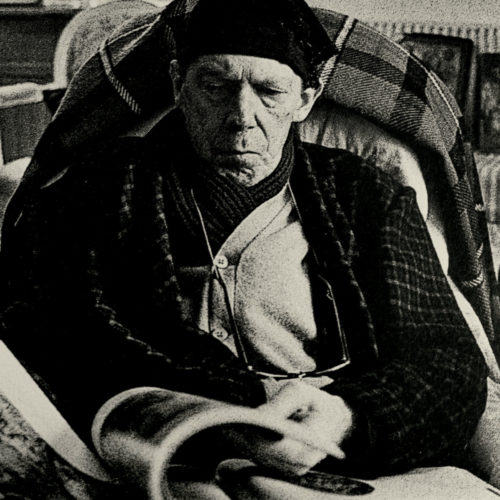 24. Hymnambulae – Nausikaa (Hypnagoga Press)
This is a brother/sister duo (Pär & Åsa Boström) that I'd never heard of before this record. I'm kind of thankful they only have one release prior to this one so I don't have to spend too much time digging into their back catalog. Nausikaa is phenomenal and probably the most depressing record on this list. The drones are tender and understated but incredibly powerful, funereal minimalism that doesn't so much break your heart as it does make you want to walk out into a calm foggy ocean and drown yourself. And woven throughout are recordings of Gunnar Ekelöfm, a Swedish mystic, speaking in a language I don't understand. The total time is just under a half hour, which makes this feel far too short.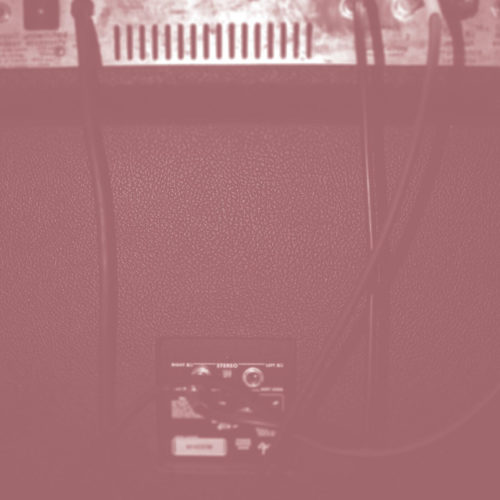 23. High aura'd & Josh Mason – Lower Yr Voice (Whited Sepulchre)
These two dudes have individually seen the number one spot of my year end drone lists (The Symbiont in 2013 and No River Long Enough Doesn't Contain A Bend in 2017) so it's only right and natural that their debut collaboration would appear somewhere on this list. This record is a perfect harmony between their two very distinct sounds: the dreary guitars of High aura'd and Mason's microscopic digital universes. It's not a sound that's easy to imagine but it exists and it's goddamn beautiful.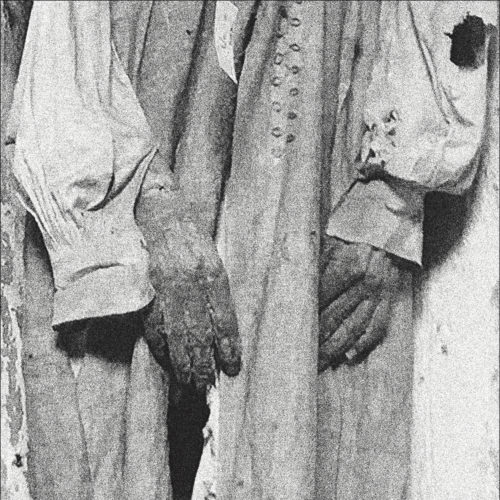 22. Clavicvla – Sepulchral Blessing (Cyclic Law / Sentient Ruin)
Total crypt-creep dark ambient out of Italy courtesy of Ittiel, this goes below the absolute bottom of the sound frequencies, bone rattling sub-aural bass tones emanating from beyond the grave, circling down the nine circles of hell, I've never heard something so minimal sound so pure fucking evil.

21. Jen Kutler – Disembodied (EyeVee)
Jen Kutler is an incredible sound artist who has made work like The Whether (a block of ice on a rotating plate with women's underwear frozen inside, the sound generated by the size and shape of the ice) and Women's Work (a floor cleaning robot sculpture that translates the surface it's on into sound and low frequency feedback). Disembodied has twelve pieces "generated by the vibrations and movements captured by an electronic ring worn on the finger of a feminine spectrum body while bringing themselves to orgasm." The ring generates data, it gets plugged into a spreadsheet, and that's used to create MIDI files. Twelve songs for twelve bodies. Kutler says this is one of many "de-sexualization experiments seeking to discover the amount of separation required to de-objectify a body on the feminine spectrum." So yeah, the concept here is more than enough to catch your eye, but the music itself is fantastic. Bite-sized drones that range from pure minimalism to clickety field recording sounds and dial tone harmonies. A truly engaging work that smears twelve separate pieces into a seamless body of quiet perfection.

20. piv-ots – orangish (Nomad Exquisite)
piv-ots is .marbles is Nicholas Burrage is Nicholas Szczepanik. The same person (as much as anyone can be the same through so many changes) making more incredible music. Burrage recently founded the label Nomad Exquisite, "prompted by the brevity of life and devoted to a curious & vulnerable approach to being here at all." Every release is 13 minutes or less, orangish included, right down to the final six second track. The focus of this is the nearly 11 minute piece in the middle, which is a slow-mo float through the vacuum of space, a glacial pulsing that gently rises & falls, taking you who knows where. The 2 minute opener reminds me of some Total Life buzz, and I fucking love Total Life. Even though this is a quick listen, it still offers a goldmine of layered minimalism to sift through.

19. Lea Bertucci – Resonant Field (NNA)
In general, I'm not a big fan of the saxophone. However, in the right hands, I can love the saxophone. Colin Stetson is an obvious example. Lea Bertucci is another, and on Resonant Field, she and her alto sax went into a decommissioned grain silo and let loose an otherworldly stream of wavering high-end tones that bounce, echo, and fade into each other, a 12 second decay of microtones opening new realms full of previously unknown soundscapes.

18. Poemme – Frozen Passages (Stereoscenic)
Poemme is Angela Klimek out of Cleveland, Ohio, making music so sweet and luxurious, this is some unbelievably chill ambient, with track titles like "Falling Snow On A Silent Night" and "A Path Between The Clouds" you know this is that real good New Agey shit, the kind of music they'd play during massage therapy if that music wasn't cheesy as hell, there's nothing more calm than Frozen Passages.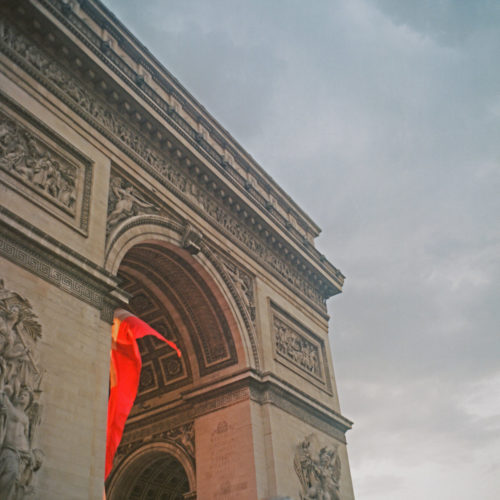 17. cinchel – There Is No Time Remaining (self released)
An hour and 45 minutes of pure fucking bliss. This is dense pink euphoria, sky-high walls of majestic velvet, soft, warm, comforting, and deeply emotive. Chicago's cinchel (aka Jason Shanley) makes a lot of music (including a new one that dropped just one day before this list got published), and it's all the best, but this one is THE BEST best.

16. Maryam Sirvan – Songs Of An Empty Room (Past Inside The Present)
Sirvan's debut solo record, Untamed Terror, made my top drone list last year, so no surprise that her new one would show up here. While no songs on here are quite as long as the 30 minute title track on her debut, all but one is in the double digits, so these sounds still have plenty of room to unfold and develop from stark bleak nightmares into starker and bleaker nightmares. Sirvan is making some truly challenging and uneasy sound art, music that feels like an unwelcome parasite scouring your body to find a way inside. There's one song, "White Room," that lets up a bit on making you feel uncomfortable in your own skin, but it doesn't last long.

15. Featherstone – Ornaments (self released)
Jeremy Bushnell has been making music for over 15 years, be it solo as Noah Opponent or as part of Number None with Chris Miller (from The Golden Sores, that painfully short-lived duo with Steve Fors aka Aeronaut). However, he hasn't made a single beat or chord (publicly, anyway) since 2012, so this is a very welcomed return in my eyes. Featherstone is his new solo moniker and Ornaments is the debut release and it is fan-fucking-tastic. I love this sound so much, impenetrable buzz and hum with textures galore, seven sub-10-minute pieces of mind-bending electronics that vary from twisted static to delicate elegies, all of it's magnificent. He's also got a brand new project with David Wade Evans called Doubtful Forms and that record is also wholly worth checking out.

14. Maria W Horn – Epistasis (Hallow Ground)
I loved her record from last year, Kontrapoetik, so I was pretty psyched about this one. Epistasis is a bit different, with two songs that open and close the record with pianos that slowly increase their tempo, wonderful but not very droney. Normally I wouldn't put a record on the drone list if it was only half drone, but the other half of Epistasis is incredible so I'm making an exception. It's a string quartet that "focuses on evolving progressions in F minor, the idiom being inspired by the sound and harmonic structure of doom and black metal music." How could this not be amazing? It is. It's every bit as amazing as you'd hope.

13. Joshua Sabin – Sutarti (Subtext)
Subtext continues to be at the top of their game, with everything they release sounding like perfection. The new Sabin is no different, taking a much different approach to 2017's Terminus Drift, which was comprised of field recordings from public transit in Kyoto, Tokyo, & Berlin, Sutarti uses archival recordings from the Lithuanian Academy of Music, specifically the Sutartinės, "a distinct canonic song style consisting of two or more voices that purposefully clash creating extremely precise dissonances and the phenomena of aural 'beating.'" It also includes some native instruments and Lithuanian forest field recordings (even though all I hear sounds completely digital). It's overwhelmingly beautiful, with a huge dynamic range going from invisible whispers that dance on your eardrum to knocking you off your feet with gorgeous blasts of static.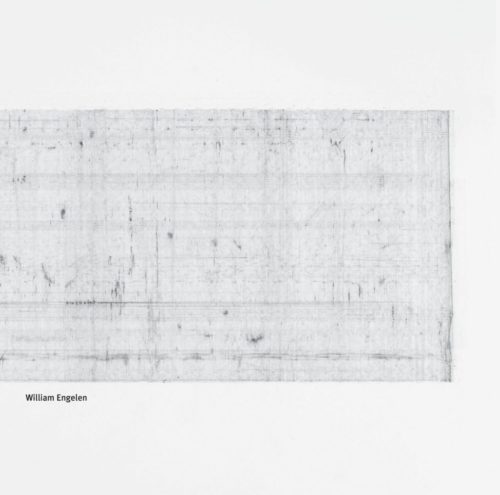 12. William Engelen – Today, The Organ Has Played Beautifully Again (Edition Telemark / Kunsthalle Osnabrück)
This isn't your typical organ record. Engelen decided he wanted to play the organ, specifically the Klausing organ from 1713 currently in St. Matthäus church, from behind the scenes. He teamed up with Stephan Lutermann so that Lutermann could play the organ compositions from the normal position, sitting in front of the keys, and Engelen would push and pump the bellows by hand and foot, allowing for an incredible amount of precision in tone, duration, timbre, and tempo. Engelen has taken the organ to places never before heard and it's absolutely breathtaking to hear such a familiar instrument sound brand new. There are long stretches that sound nothing like an organ, like underwater bass frequencies frozen under leagues of pressure, and parts that sound like an organ but somehow off, like the wobbling descent of a chord that gets woozy and runs away to puke in the bathroom, something straight out of a synthy score to an 80s sci-fi movie. I am so psyched to be able to listen to one of my favorite instruments in such a unique way and not just for the sake of being weird. This is astounding music and I doubt you'll ever hear anything like this.

11. Dead Neanderthals – Ghosts (Utech)
This record is fucking RELENTLESS. Two side-long pieces, the first of which is maximum volume saxophone minimalism, monolithic drums going over 200 BPM, and a chaotic piano that's barely audible underneath the cacophony. This is the aural equivalent of a panic attack, the intensity is almost unbearable. The B side starts out with much less malefic intentions, switching out the piano for a guitar, which takes the lead behind the sax & drums, then it evolves into some Earthy/Sunny O))) doom drone with a deep groove, and the final third just fucking explodes, the sound of the sky cracking open and the universe raining on your unworthy husk of a body, making so much goddamn noise that comprehension goes out the window and all that's left is your liquified brain pouring out of your ears.

10. Félix Blume – Fog Horns (Discrepant)
Blume is one of my favorite field recording sound artists working right now. He's recorded funeral brass bands in Haiti, strapped microphones to stray dogs while they wander around Southeast Brazil, and sat alongside Romanian coachmen as they talk to their horses throughout a day's work. This year, he put out a record call Fog Horns whose A side is a single 18 minute recording of a "fog horn concert" in the Grecian port city Piraeus. It's a record I never knew I needed to exist until it already did. The B side has three "remixes" that Blume made using the original recording as source material. They're awesome, but to be perfectly honest, this could've been a single-sided record without the remixes and I would love it just as much.

9. Sarah Davachi – Pale Bloom (Superior Viaduct)
I think it's impossible for Davachi to put out a bad record. All of her music is so poignant and fulfilling. Similar to Horn's Epistasis, Pale Bloom is half piano, half drone. The A side is a three-part suite called "Perfumes," slow and somber piano that brings in some melancholic and understated operatic vocals as well as an organ humming a soulful foundation underneath the third movement. The 22 minute B side piece is a subtle stunner, taking long breaths before conveying its discrete messages, high-end organ tones endlessly exhaling so slowly they disappear before the congeal, then moving to thick blankets of harmonies that hover just above the ground, holding on with the last of their strength, before floating to the floor. This song on its own is worth the price of admission.

8. Modkopf – How Deep Is Our Love? (Hands In The Dark)
Paul Régimbeau as been making music under the Mondkopf moniker for well over 10 years and I've been semi-following along, catching an album here and there and enjoying what I'd heard. I don't know if I've just finally caught up with what he's doing or if this new one on Hands In The Dark is a standout from his previous work, but either way, WOW, How Deep Is Our Love? is a spectacular record. It's one of my favorite kinds of drone: shattering the heavens with indescribable beauty and devastating volume, richly textured cascades of bittersweet heartache, a bright & bold sound that I want to embrace like when Kaneda gets blasted by the sun in Sunshine.

7. Kali Malone – The Sacrificial Code (iDEAL)
I'm a huge fan of last year's Organ Dirges 2016-2017 EP. I love organs. I love dirges. Malone was like, ok a 20 minute EP is cool but you know what's even cooler? Almost 2 hours of organ dirges. And while these technically aren't dirges or even labeled as such, they still have a dirge-like quality, and I love every fucking minute of this record. A nice variety of songs lengths (ranging from just over a minute to an entire side-long piece) as well as a variety of emotional qualities, elegiac, doom-laden, bittersweet, hopeful, Malone's organ knows no bounds.

6. Microtub – Chronic Shift (Bohemian Drips / Ace Tunes)
"The world's first and only microtonal tuba trio." I can't not love this. I found out about them when asking Twitter the name of the solo tuba doom drone project that I'd forgotten about (it was ORE) and I'm so happy I did. Chronic Shift was recorded in a water reservoir, then "reworked and augmented with analog synthesizers." So while this isn't 100% pure organic tuba, it's still perfectly hypnotic and way down at the bottom on the minimal/maximal spectrum, almost but not quite as minimal as drone gets, with a side-long piece of beauty that bores straight through your skull and opens that third eye.

5. J. Pavone String Ensemble – Brick And Mortar (Birdwatcher)
Jessica Pavone is constantly hard at work, be it with her solo recordings, in the band JOBS, playing alongside Mary Halvorson, being part of Anthony Braxton's Tri-Centric Orchestra, or leading her string ensemble. This year alone she's put out at least 3 records. Brick And Mortar is one of my favorite things she's done this year, though. The ensemble is a violin/viola quartet, with Pavone composing and playing the viola, Abby Swidler also on viola, and both Erica Dicker & Angela Morris playing violin. This definitely falls into contemporary classical territory, but Pavone's compositions mean you're dealing with angelic strings that playfully drone into each other, soft and steady tones that resonate through the air and seem to last forever. The nine-minute title track starts out with such purity, it feels like you're motionless, just staring at the stars, but eventually you look down and find yourself miles away from where you started.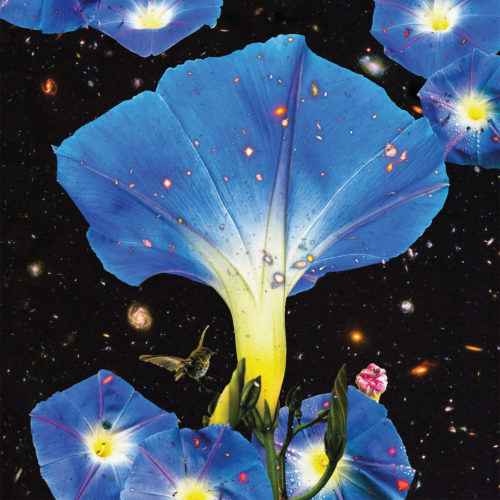 4. Sarah Louise – Nighttime Birds And Morning Stars (Thrill Jockey)
Sarah Louise is making some truly unique music and I can't get enough of it. She's doing the folk drone thing à la Andrew Weathers except, as you can tell from the album art, this is a bit more cosmic than Weathers (or Louise's previous work for that matter). There's an endless amount of instrumentation and moods here with New Age devotionals and southern mountain folk, lots of intricate guitar work but also tons of strange unidentifiable sounds (that I'm pretty sure are still guitar-based), she moves seamlessly between the dust of the farm and the dust of the cosmos, creating a new world of intimacy that I never want to leave. She also released a new House And Land record this year, her duo with Sally Anne Morgan, and it's just as good as her solo work, just more experimental folky and less experimental droney. Side note: the beginning of "R Mountain" reminds me so much of the beginning of Deftones' "Minerva" and it's the best kind of disorienting.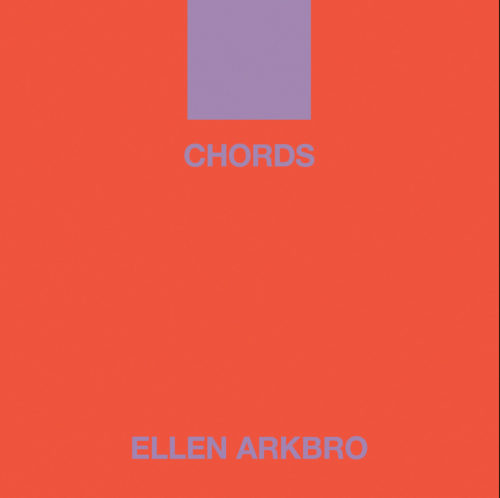 3. Ellen Arkbro – Chords (Subtext)
Arkbro's debut, For Organ And Brass, was number 2 on the 2017 drone list, and this one is even better. For one, its side-long organ piece is just organ here, not organ and brass, and in case you couldn't tell yet, I fucking love organs. Chords is pure, minimal, and exalting, an absolute fucking joy of a record. The organ side is very similar to her debut record (i.e. fucking awesome), whereas the guitar side is much more dynamic, slowly strummed chords that decay, each note layered but distinguished, taking their time to find their place in the world, then settling in and fading away, like an Indian raga falling apart at the seams and returning to the dust it once came from.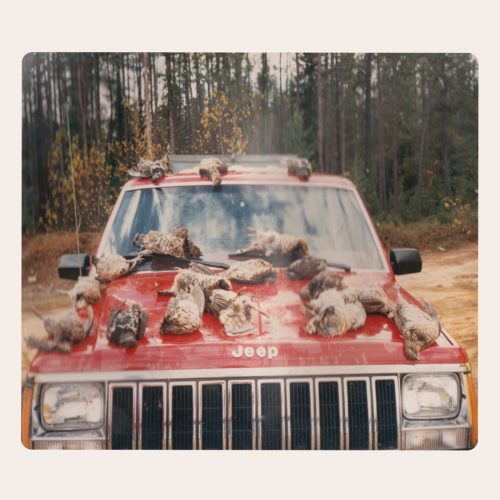 2. Efrim Menuck & Kevin Doria – are SING SINCK, SING (Constellation)
Menuck of Godspeed and Silver Mt. Zion fame and Doria of Growing, Total life, and Hiss Tracts fame, have officially teamed up after Doria spent a lot of time collaborating with Menuck on stage during Menuck's "solo" tour and the name of the record is actually the name of their new project. This is perfection. Massive drones building to even more massive heights, which Doria is already a master at, but here flexing even harder and going for broke, trying to crush the planet with sheer volume, while Menuck rattles on in his inimitable despairing voice about fascism, ecocide, and the inescapable horror of our world, still remaining optimistic that the good will triumph and evil is not forever. This is ecstatically depressing music, somehow embracing the sound of victory & euphoria and the sound of fury & misery, it's impenetrable, all-encompassing, ever-expanding, and absolutely fucking essential.

1. Mára – Here Behold Your Own (Sige)
I don't think there's an artist I love more than Faith Coloccia. Her music is exactly what I want to hear, beautiful ebullience and melancholy. Lucky for me, she makes a lot of fucking music. Just this year, she put out this solo record as Mára, a Mamiffer record (which is her with Aaron Turner but musically it's very much a Coloccia project), a record from her continued collaboration with Alex Barnett (of Oakeater), and a new collaboration with Jon Mueller and Aidan Baker (of Nadja). Every single one of those records is incredible but Here Behold Your Own is hands down my favorite, just Coloccia being the perfect creator, her heavenly voice echoing infinitely, creating its own kind of drone language, haunted organs that bring you to tears, sublime harmonies that have no right to exist in a world as awful as ours, wavering ephemeral electronics crying with sorrow and delight, this is music at the extremes, both emotionally and aesthetically. Nothing is better than this.