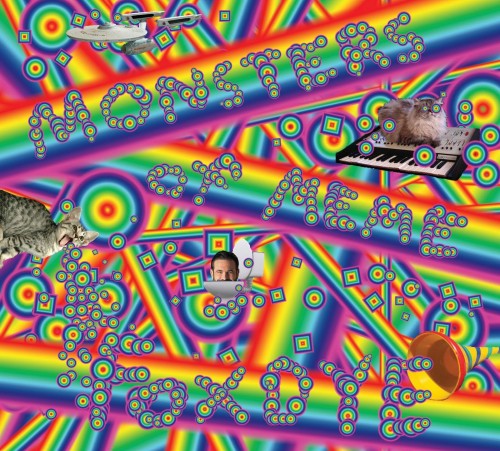 Foxdye – ADD Rave Massif



About a year ago I was bombarded with some of the most insane breakcore I've ever heard. Foxdye's M4g1c47 G71mm3r1ng R41nb0w was a fucking blow to the head, and a ton of you seemed to love it just as much as I did. Well, good news everybody. She's back with another round of electro sample chaos that's just as good as her last. Although truth be told, not much has changed on Monsters Of Meme. But for me, that's a goddamn relief. I fell in love with happy hardcore and I'm more than happy to get an annual fix.
What we have here is R41nb0w squared. There's double the farts, double the blast beats, double the delicious glitter, double the LOLs, and a motherfucking meme OVERLOAD. There's samples from all your favorite everythings from pop & obscure culture chopped & fukdup to oblivion: "I'mma let you finish," Banana Phone, Ren & Stimpy, Billy Mays, Ace Of Base (with farts), Indiana Jones, and a zillion other things, including the most necessary of all, Double Rainbow. Full on. SO BEAUTIFUL.
When Foxdye's not sampling Mario, Uncle Phil, and every other fucking thing on the planet, there's the actual music parts which take a jungle dub skwee rainbow shit all over your chest. Way harder than on R41nb0w, these are the glitchiest nastiest beats to ever pump through your speakers. This is hardly danceable but I'll be DAMNED if I can't help myself from flailing uncontrollably in pure ecstasy.
No amount of sub-genres can be applied to Foxdye. They're useless. She's beyond them. I don't even think the self-described "happy hardcore" is enough anymore. This is some ultra-level shit that builds off of everything, resulting in a meta noise that if it weren't so rooted in current trends I'd swear it came from the future.