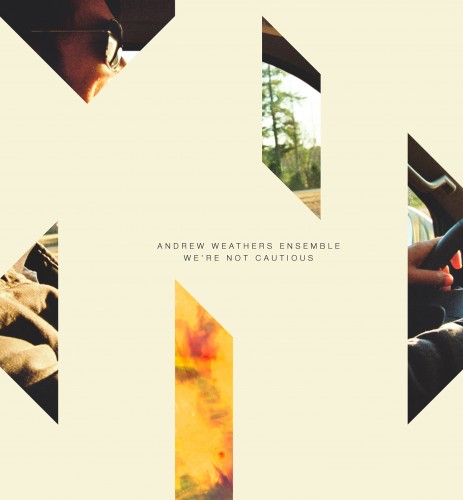 Andrew Weathers Ensemble – Ecstatic, Unchanging



North Carolina's Andrew Weathers might not be super prolific yet, but he's still able to put out a damn fine drone record, last year's A Great Southern City being a prime example. He also helps run the impeccably curated Full Spectrum label. But guys, get ready for this one. Seriously. We're Not Cautious is gonna swoop down without warning and stun the shit out of you. This record is fucking GLORIOUS.
Weathers is joined by numerous pals in this Ensemble, each tackling their instrument of choice, be it wind or string or whatever. Together they form a multi-faceted electro-acoustic peacekeeper, spreading the warmest vibes possible. There's lots of drone, although this isn't really a drone record. There's also plenty of percussion & singing, and mixed with violins, banjos, & guitars you'd think this might be headed into folk territory. It's not. It's something else entirely. It's just… perfect. It takes everything that's right with music and puts it on one album.
"Ecstatic, Unchanging" is the embodiment of this record. It seamlessly mixes violin & cello drone with slow paced banjo picking and processed vocals. It's fucking INCREDIBLE. So so gorgeous. It's like this was fucking made for me. Vocal glitchiness, heavenly drone, and banjos? In case you didn't already know, I have a hardcore weakness for banjos & free reeds, which kind of explains why I love this album so much. Fucking banjos GALORE. Plus organs & harmonicas. I never stood a chance against We're Not Cautious.
Some pieces focus on one sound more than others but most of them mash everything into a single song, like "Ecstatic, Unchanging" or "Go Lightning" which switches gears from static drone bliss to lone banjo & layered vocal harmonies. It would be pretty easy to fuck up something as complicated as this. Blending so many instruments and different styles into something that's this cohesive, original, and enjoyable is a goddamn feat and a half.
There's so much feeling evoked from this ensemble, you can just tell it was made by friends that love & care for sound. It's unbelievably warm, so rich & soft, tender & charming, absolutely beautiful in every way. It can be played at full volume and it won't overpower, it'll simply fill your home with the most delicately lush sounds you can imagine. I'm pretty sure We're Not Cautious is going to stay with me for a long time to come. And if there's any justice in the world, it'll be in heavy rotation for everyone forever. Do your life a favor and pick this up at Sleep On The Floor because it just dropped TODAY.