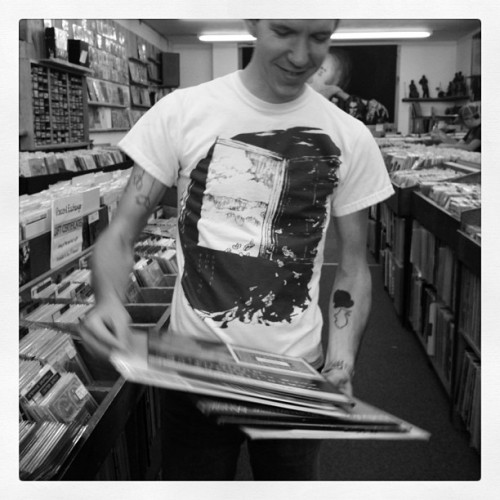 Me at The Record Exchange, my number one. Credit: my pal Amy
I've been doing a bit of research, looking for some of the coolest record shops in America. Reason being, I'm planning a cross country road trip at some unknown point in the future and I'd like to hit up some sweet record shops along the way. The problem is I only know what's around me, and anytime I see a "best of" or whatever it's always bloated with places like Amoeba in LA or Shangri-La in Memphis. Not that I'm not interested in those places, I most certainly am, but I'm more looking for the smaller, weirder shops, like Stormy Records in Dearborn, MI or the newly minted Hanson Records in Oberlin, OH. I know about those places because they're run by artists I'm a fan on, so they're already on my radar. So here's where you come in!
First off, this isn't just about me looking for places to hit up. I actually buy cialis online from canada thought it'd be a good idea to have a list like this, maybe something other people could make use of. So I'm not asking you to omit places like Amoeba. If that's your favorite place to dig for records, awesome, include it and let us know why. But you know, the weirder the better, that's the general goal of this, to let other people know about the little places, the holes in walls.
No rules here. There's no required fields (you don't even need to share why you like it). You can add however many stores you like (but one at a time please). Don't worry about duplicates (knowing a shitton of people love Redscroll in CT would be awesome). They don't have to be in the US. There's no deadline. The responses will be publicly viewable, and depending on how it goes, I might do something with the data afterwards.
THANKS x1000
Here's a spreadsheet of the responses.