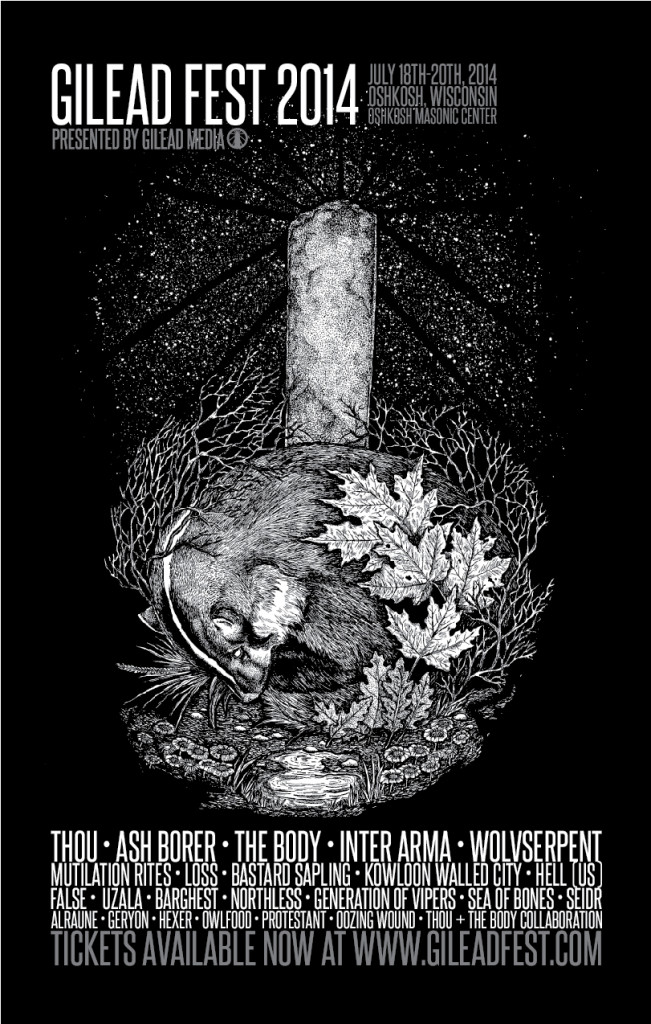 Gilead Fest is coming!! This thing is going to be insane. Gilead is one of the best metal labels around and this festival is sure to be fucking great. In honor of the upcoming brutality, I did a special episode going through every band that's playing the fest and in the order that they'll be playing.
The only caveats are 1: Wolvserpent didn't get a standalone song because they were the background music for the whole show, 2: Alraune didn't get played at all because their album isn't out yet and the only release they have to date (a self titled EP) isn't available digitally, and 3: Thou & The Body each had separate songs but not one of their collaborative pieces because I didn't have time.
A few tickets are still available, they're cheap, the lodging is cheap, it's in the north (Oshkosh, Wisconsin!) so it won't be too hot, and Adam has blacked out all the windows in the venue for maximum carnage. Don't miss out on this. It's going to be the fucking bessssst.

/Background music/ Wolvserpent – Within The Light Of Fire (from Perigea Antahkarana)
00:00:00 Intro
00:01:19 Oozing Wound – Welcome To The Spaceship, Motherfucker (from Retrash)
00:04:14 Inter Arma – 'sblood (from Sky Burial)
00:10:35 Hell – Deflagratio (from Hell I)
00:15:43 Ash Borer – In The Midst Of Life, We Are In Death (from Ash Borer)
00:27:26 Talk break
00:28:15 Protestant – Jan Palach (from Reclamation)
00:30:59 Hexer – I:III (from Hexer)
00:33:49 Owlfood – Collective Memory, The Trail Of Eyes (from Destroyers Of The Moon)
00:37:04 Sea Of Bones – Black Arm (from The Earth Wants Us Dead)
00:44:05 Geryon – Lament (from Geryon)
00:47:12 Kowloon Walled City – 50s Dad (from Container Ships)
00:50:35 Mutilation Rites – Realms Of Dementia (from Empyrean)
00:55:00 Talk break
00:56:15 Bastard Sapling – Prophecy Born From Dismal Terrain (from Dragged From Our Restless Trance)
01:01:21 The Body – Hail To Thee, Everlasting Pain (from I Shall Die Here)
01:07:00 Northless – Wither And Escape (from World Keeps Sinking)
01:10:15 Generation Of Vipers – Gates Of Steel (from Devana)
01:13:31 Seidr – The Pillars Of Creation (from Ginnungagap)
01:23:51 Talk break
01:25:30 False – The Key Of Passive Suffering (from Untitled)
01:38:00 Uzala – Burned (from Tales Of Blood & Fire)
01:42:11 Loss – Shallow Pulse (from Despond)
01:49:10 Barghest – Thought Disease (from The Virtuous Purge)
01:52:46 Thou – In Defiance Of The Sages (from Heathen)
01:58:18 Outro