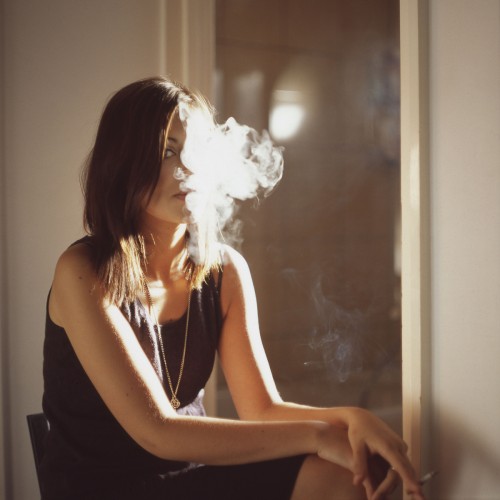 Rivulets – Into The Night (JellyFant Schallplatten)

I fucking love this record. Everything about it. Rivulets, aka Nathan Amundson (backed here by a very capable bunch), has been steadily releasing incredible records that somehow still fly under the radar, even if they're on high profile labels like Important (We're Fucked from 2011 was just outstanding). I think this might be the one to break Rivulets out of the glass ceiling, though, even though it's on a German label (but available stateside on the cheap), because it would be a goddamn travesty if anything this good came & went largely unnoticed.
This isn't normally my thing, the singer-songwriter Americana country-ish thing a la Will Oldham, Bill Callahan, or Jason Molina (who gets his own tribute here with "Ride On, Molina"), but this is slower, sadder, weirder, and injects some psych & folk into the mix, but even then, on paper, I'd be like ok cool but I'm not going out of my way to hear it or anything. For some reason, though, I see strong similarities to drone king Kyle Bobby Dunn, two pained romantics making slow-sad-core, one going the drone route, the other down Americana lane, so regardless of your taste in music, this is 100% worth seeking out.
I Remember Everything starts out with "Reinforced / Delicate" whose lyrics are "And it's reinforced, and it's delicate. I'm not delicate. Are you ready now?" (which are the only lyrics in the whole can you order cialis online song), so it sounds like you stumbled into the middle of a jam session, I mean who starts a record with "…and?" And the the songs are structurally straightforward, no tricks or whistles, they're minimal, repetitive, & hypnotic, sometimes the song is essentially a repeated chorus (see "Reinforced / Delicate"), sometimes (not always) short and like a brilliant one-off idea with only a vague beginning and end, the full band equivalent of notes on a napkin, and all of this works so goddamn well. Where Rivulets truly shines, though, is mood & sound. This is some sad fuckin stuff, not like Giles Corey levels of depression, but definitely bummed out (lyrics like "My favorite drug is sleep") and a little bit pissed ("Isn't it time you found your own place to ruin?"), it's dark but not too dark, and the sound is really what gets me, it sounds like Amundson is at the bottom of a canyon with his rich voice and rusty guitar echoing down the cliff sides, sounding simultaneously huge and intimate, and it deeply resonates with me, not so much metaphorically (although that too), but physically, like the chords, tones, and drones are tuned to the frequency of my body, everything in this just feels and sounds so right to me, I just can't get enough of it, the resonance is too strong, and it all adds up to a perfect fucking record.