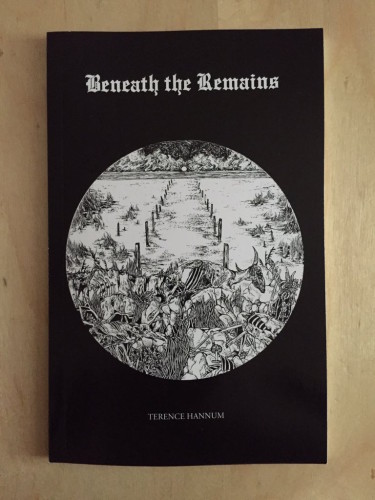 AGB is venturing into new territory here you guys. Well, sort of, or maybe getting back to my roots depending on how far back you look into AGB's history. This giveaway is for a copy of Terence Hannum's debut novella, Beneath The Remains. You should all know Hannum already: his solo music is unfuckwithable and he's a member of the legendary Locrian as well as The Holy Circle. He's also an incredible visual artist who works primarily with cassette tape as a 2D medium. For real this guy is like #1 jack of all trades, master of all of them.
I just finished reading this book last week. I have, like, negative time for reading, but this was good enough (and short enough, roughly 75 pages) that I blasted through it in just a few days. It's so fucking can you buy cialis online good. The short synopsis is two young brothers are forced to move to Florida with their mom and new step-dad. The older brother, who hates almost everything except death metal and literature, goes missing. This is teeming with 80s/90s youth culture living alongside the depths of human malice and strangeness. I loved it and I'm pretty sure you will too.
The book is published by Hannum's newly minted Anathemata Editions and the winner will receive a PDF of the book as well as a physical copy. All of you have to do is write a haiku about your childhood, Florida, death metal, evil, Shakespeare, or whatever, and send it to beneaththehaiku [at] antigravitybunny [dot] com by the end of the week (Friday, June 10th).